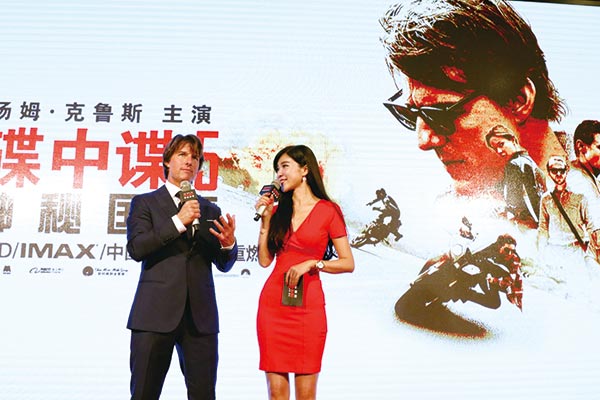 Betty Zhou interviews Tom Cruise at the Shanghai premiere of Mission: Impossible-Rogue Nation. [Photo provided to China Daily]
Fun factor
The show's unmistakable fun factor lies in Zhou's interactions with the stars. In the episode where she had to interview Tom Cruise for Mission: Impossible Rogue Nation, Zhou was strapped into the passenger seat of a BMW as the actor performed a slew of tyre-burning stunts and high-speed manoeuvres. As Paramount Pictures Vice-Chairman Rob Moore revealed, the stunts were never part of the script-it was actually Cruise's idea to inject some action into the segment. Zhou, who was sporting enough to oblige, had the honor of becoming the very first journalist to sit in a car driven by the action superstar.
Picking Zhou to front the show was a no-brainer for the Americans. Recognized as China's prettiest bilingual basketball host, Zhou has carved a solid reputation for herself in the sporting infotainment sphere by hosting NBA coverage in China. Some of the basketball stars Zhou has interviewed include Dwight Howard, Derrick Rose and Taiwan hotshot Jeremy Lin.
Moore said that it was Zhou's infectious personality and her ability to draw out the funny side of these stars that convinced the management to have her become Hollywood's bridge to the Chinese market.
"I enjoy a good chemistry with those I interview because I believe in being myself at all times. I love to talk to people and make stupid jokes," she quipped. "I don't feel too intimidated by big stars because I'm always focused during the interviews. It's only after filming when I go back to the hotel that I realize I just played a video game with Arnold Schwarzenegger and danced with Megan Fox!"
When she was younger, Zhou had dreamt of becoming a journalist, even a war correspondent who could venture into conflict zones. She later decided that she would become an actress and went on to study performing arts at Shanghai Normal University's Xie Jin Film & Television Art College.
But Zhou's foray into the entertainment industry started even before she graduated from college in 2007. An overseas production company had talent-spotted Zhou and subsequently signed her on to star in a television series called Adventure Girls. As the title suggests, the travel program featured Zhou and another co-host in search of adventure in countries such as Thailand, Malaysia and the Philippines, taking part in outdoor activities such as bungee jumping, diving and rock climbing.
Zhou later got to know some industry people from Singapore and was offered an acting career there. She decided to relocate to Singapore for a few years to hone her craft, and the move paid off as she managed to gain a considerable amount of exposure there, featuring in numerous magazines and television shows. During her time there, Zhou had the honor of becoming the only actress from China to star in a leading role in an English language production.
"I really like Singapore. It's like my second home," said Zhou. "I fell in love with a Singaporean and the country too."