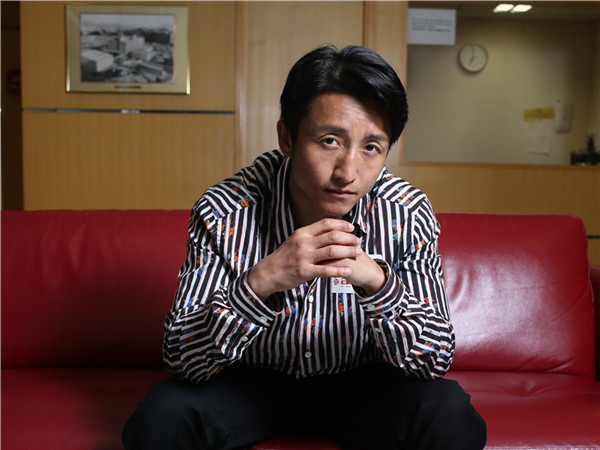 Zou Shiming is a Chinese professional boxer who is the current WBO International Flyweight champion. [Provided To China Daily]
Late in the bout, a champion boxer discovers another side to life.
The first time Zou Shiming's son said "daddy", Zou was not there to hear it, and the first time the boy took a footstep, Zou was not there to see it.
Zou had important things to do, such as seeking glory as a professional boxer. That has kept him away from home, but Zou was well aware of the rewards - financial and otherwise - this could reap, given his earlier success as an amateur, when he won world championships and two Olympic gold medals and gained fame throughout China and beyond.
Eventually, though, Zou, realized that success in the ring could never make up for his missing out on seeing his son grow up, and he decided to throw himself whole-heartedly into that task.
That realization came about as the result of an offer to appear on a popular television show, Dad, Where Are We Going? Now, it seems, Mingxuan, 4, has become almost as well-known in the country as his father, appearing almost every week on the hot topics list of the microblog Weibo. Of course, a cute toddler who constantly says funny things is a quick-fire way of winning an audience over, but Mingxuan seems to have exceeded even these expectations.
"I really didn't expect him to be that smart," Zou says, laughing. At one stage of the show Mingxuan was being the perfect little gentleman and holding the dress of a girl called Poppy, whom Mingxuan would refer to as his elder sister, and he was generous enough to share his food with other children. Zou takes no credit for teaching the boy these social skills.
"For me those things were the nicest discovery I made in doing the show."
Zou, as someone used to fame, says he hopes being a celebrity does not go to Mingxuan's head, and he is always reminding him of the importance of good manners.
In doing the show, which is filmed throughout the country, Zhou says, he and his son have become much closer, and at home in Beijing Mingxuan now talks and plays with his father much more. Earlier, all this had been left to the boy's mother, Ran Yingying.