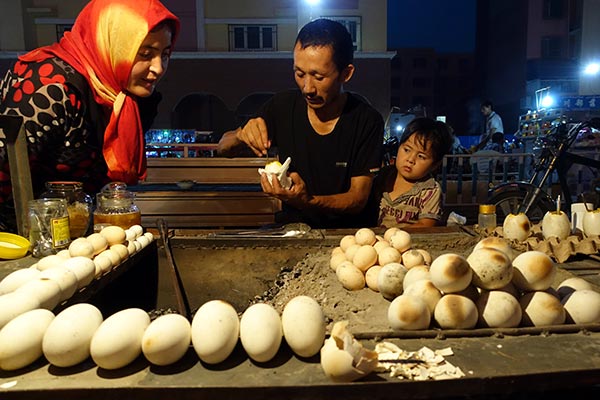 Barbecued eggs are one of the most famous specialties in Hotan. Eggs are buried in the burning coals, and vendors know exactly when to pluck them out. [Wang Zhuangfei / China Daily]
You don't need to ask anyone how to get to the night food markets in the city of Hotan; just look for one thing, billowing smoke, and then take in the odor that comes from it: the fragrance of exotic delicacies being barbecued in the distance or just around the corner.
After that, follow your eyes until you see glowing lights, hundreds of them, from the dangling light bulbs hanging above every stall specializing in the local traditional food, much of which is unique, often creative and always delicious.
There are two night markets in the city, in Xinjiang Uygur autonomous region, and people simply refer to them as the old one and the new one. The old one is in streets along the banks of the Kashiyulong River, from which Hotan jade is taken.
The market expanded so much that roads were eventually clogged with cars, tractors and donkey carts parked on the streets so the local government decided to move some vendors to another location, in a square in front of a newly built apartment block. The look and smell test can be used to find either market.
Hotan is an oasis on the edge of the Taklimakan, the world's second-largest desert. Oases near Hotan, small and large, provided sustenance to many ancient civilizations and kingdoms on the ancient Silk Road. Four of the 36 kingdoms and emperors in the Western Han Dynasty (206BC-AD24) are in the current Hotan prefecture, and counties such as Pishan and Yutian still carry names passed down from those days.