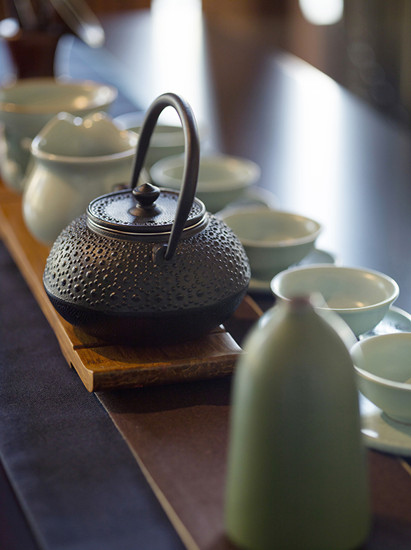 Decorative tea utensils in Yuan Teahouse. [Photo by Dong Fangyu/China Daily]
The next tea, Lapsang souchong, is lighter and scented. It is a black tea from northern Wuyi Mountain in Fujian province, known as Zheng Shan Xiao Zhong in Chinese.
The first sip delivered a pleasant sweet flavor reminiscent of dried longan fruits. Later it gave out more of a milky aroma, though of course no milk is added. We then came to Wuyi cinnamon, which has a more distinctive flavor than the first two delicate flavors.
Wuyi cinnamon is one of the most famous Wuyi rock oolong teas from Wuyi Mountain. It has a distinctive aroma similar, not surprisingly, to that of cinnamon.
The color of this tea was the brightest of the three. It had a finer luster but was a little thicker, and a distinctive but unobtrusive aroma of cassia lingered in the empty cup. The water used to make these teas is processed spring water from Wuyi Mountain, Dai says.
"Processed mountain spring water is the best for tea. if you cannot get processed bottles of spring mountain water, filtered tap water is OK. But definitely do not use mineral water or distilled water."
There is a trendy practice in some restaurants of pairing Chinese teas with dishes, which does not sit particularly well with Dai.
"It's not like pairing wine with food. I reckon drinking tea should happen on its own. But some traditional Chinese desserts can go with Chinese tea after a meal or with afternoon tea. Desserts with light ingredients such as lotus seed paste, sweetened bean paste, Chinese yams and sticky rice balls all go well with Chinese tea."
On the whole, Yuan Teahouse proved to be a nice discovery that is reasonably priced given the quality of the teas, and the surroundings that show China past and present create a soothing atmosphere.