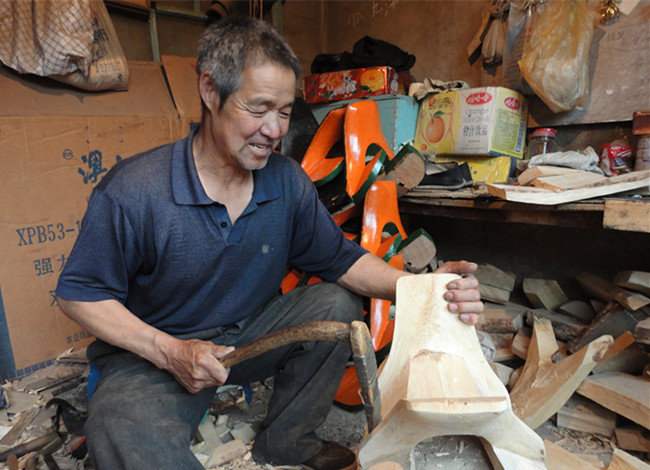 Saddle maker Zhao Xiuwen creating a saddle in his work shed in Duolun county, the Inner Mongolia autonomous region. [Photo by Alexis Hool / China Daily]
Maker of traditional Mongolian saddles strives to keep craft alive When cowboys from the West prepare to get into the traditional Mongolian saddle for the first time, they may think they are in for a very painful ride.
Four pieces of wood make up the compact, high frame of the Mongolian saddle. Knobs and other metal fittings are usually found on the seat, coming into contact with some of the most tender parts of a horseman's anatomy.
But for Mongolian saddle maker Zhao Xiuwen, there is nothing more suitable or beautiful for horse riding.
"These saddles are made for Mongolian horses," he says. "Their design, especially the intricate ones with precious metals and embroidery, is imbued with the traditions of the grassland and its way of life."
Zhao, 68, is one of the last craftsmen of his kind in Duolun county in the Inner Mongolia autonomous region.
He started learning how to make saddles when he was 14, at one of the main State-run workshops in Duolun. The county, an hour's drive from the ruins of Yuan Dynasty (1271-1368) emperor Kublai Khan's legendary summer palace Xanadu, has historically been a center of trade and cultural exchange between the Han and Mongolian ethnic groups. Han businessmen would barter their agrarian-based goods from the central plains with the region's herdsmen, who offered their livestock and dairy products. The Mongolian tradesmen also boasted horses famed for their stamina on their natural grassland habitat.
"It's only natural that Duolun became a center of production for horse saddles and other tack," Zhao says. "Buyers would come from the east and west of Inner Mongolia, Qinghai province and even as far as the Xinjiang Uygur autonomous region to buy our saddles."
But with the declining use of horses in modern times, Duolun's saddle-making industry inevitably went into decline, too. Over the past few decades more herdsmen have also been replacing their steeds with motorized vehicles.