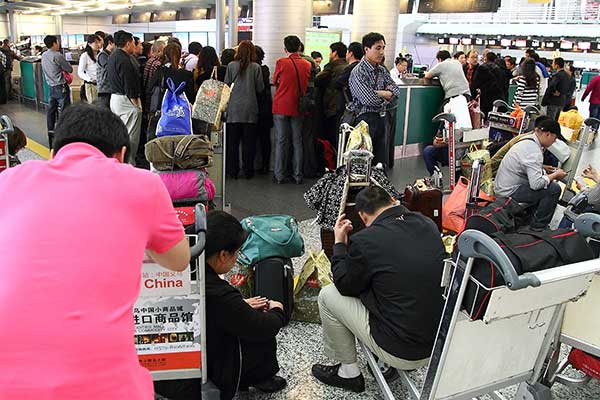 This summer, airport delays have been so common in China that for many people air travel has become a fortune.[Photo provided to China Daily]
It seems that air travel in China is becoming the ordeal you must endure as a prerequisite for that well deserved holiday you are setting out on.
For proof of that you need look no further than this summer.
I began to become aware of the problem in mid-June when social media channels were increasingly taken up with complaints from people about flight delays. Many had to hang around in airport lounges for hours on end waiting for delayed flights, including sleeping in airports through the night waiting for flights the next day.
Thunderstorms was one common reason for delays, and another, proffered by airlines, was "air traffic control" problems.
I had a holiday planned beginning in the last week of July, and as it approached I grew increasingly apprehensive about how flight delays might affect it.
On July 23 I was to head to the Indonesian island of Halmahera for a week with several friends from Taiwan.
We were to meet at Jakarta International Airport that evening and take a flight of the Indonesian airline Garuda to Ternate, an island near Halmahera, the following morning. From Ternate we would travel to Ternate by speedboat. A car would then take us to the resort we had booked, a journey of several hours.
To get to Beijing from Jakarta I booked two flights with Xiamen Airlines, the first taking me to Xiamen and the other on to Jakarta. The first flight would leave Beijing at 10:30 am and arrive in Xiamen about 1:30 pm. The next flight would leave at 5:30 pm and arrive at 9:30 pm Jakarta local time. The flight to Ternate would leave at 1:40 am on July 24. My friends had planned to arrive in Jakarta at 8:40 pm.
I had four hours between each flight as a hedge against delays. When I booked the flights several months earlier, I had thought the arrangement was perfect. But as the journey approached, I felt more uncertain about my flights and was getting nervous.
I checked the weather forecast every day before my departure. Fortunately, the weather seemed to be fine in all three cities. Just in case I had to buy a new ticket in Jakarta, I called a branch of Bank of China in Beijing to make an appointment to exchange some Indonesian rupiah. A teller at the bank told me, "OK, come tomorrow". But when I visited the bank on July 22, I was told: "We're sorry, we're out of rupiah."
It was a bad omen.
Then on July 23, I stewed in the plane from Beijing to Xiamen for two hours to just wait for our turn to take off. It was a sunny day and the only reason for the delay was tarmac congestion. I arrived in Xiamen a little past 4 pm and, thank goodness, still had enough time for check-in procedures for my next flight.