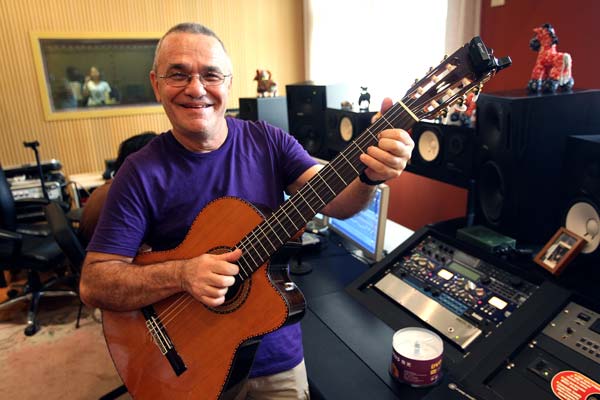 Bringing more musical shows to children and helping cultivate their love for music is Peter Winkler's top priority.Zhang Wei / China Daily
It all began with a circus, and years later an Australian musician still enthuses in bringing joy to the young
Peter Winkler is a man who knows about the long wait. He is also someone who knows when to say "Go" and when to say "Stop".
The wait he has just endured has lasted eight years, but that will finally end on Aug 20 when the children's musical Five Fools premiers at Gulou West Theater in Beijing. Bringing the show to the stage in Beijing is particularly close to Winkler's heart because it is based on a rollicking circus story that reflects his own career, and the wait reflects trials he and others faced in bringing the Beijing staging to fruition.
"I like being with children," says the 62-year-old. "Bringing more musical shows to children and helping cultivate their love for music is my top priority."
Five Fools was performed in South Korea for nine years to great acclaim, he says, but Beijing audiences will see something slightly different.
"We have added many Chinese elements such as acrobatics and Peking Opera skills to the show that are special to Chinese audiences. There will also be more opportunities for children to interact, and the musical's four songs are easy to learn."
"Going by what happened in South Korea, I am absolutely confident that Chinese children and their parents will enjoy the performance."
Winkler's long wait began when he first came to China in 2007 and a visit to the National Theater For Children in Beijing left a lasting impression.
"I watched two shows at the theater, and the performance was wonderful, with high-quality production and impressive costumes, sets and lights."
At that time, Winkler had planned to bring shows to China that had been highly successful in Australia and South Korea. Those plans were scotched for logistics reasons, but Winkler never gave up on the idea of one day putting on a show in China.
"With the eight years that I have prepared for this, it's like a dream finally coming true as the premier approaches," Winkler says.
Long preparation times are not new to the Australian Winkler, who put years of planning into the opening ceremony for the Paralympics in Sydney 15 years ago, for which he was the composer and music director.
In fact, he says, children's shows are the perfect preparation for young folk if they are to take up the baton and become the theatergoers of the future.
"If we introduce them to good-quality theater, when they grow up they will continue going to the theater."