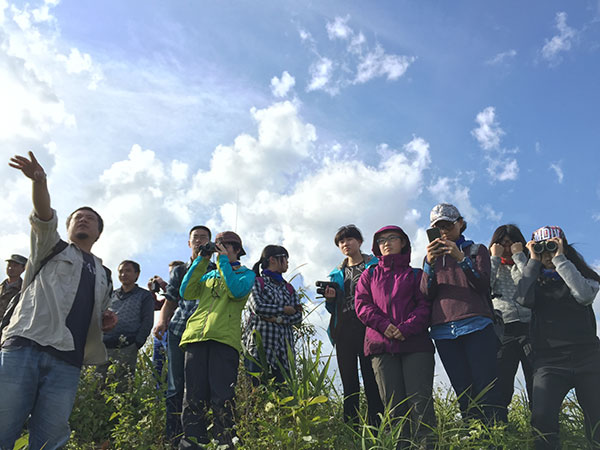 Participants of EcoAction's Asian elephant tour observe wild Asian elephant in Xishuangbanna. [Photos Provided To China Daily]
The eco-tourism trips offered by the likes of Beijing-based tour company EcoAction can educate travelers while creating sustainable economic growth in protected areas.
Mass tourism has always been the dominant force in the country's tourism sector. It is so dominant that you can hardly find a real eco-tourism product on the market.
Very few tour operators are willing or able to tap into the niche market because ecotourism involves visiting fragile, pristine, and relatively undisturbed natural areas, is intended as a low-impact and often small-scale alternative to standard mass tourism, and needs leaders with expertise on conservation to design and guide a tour, and therefore, are usually much more expensive.
A tiny tour company in Beijing called EcoAction is one of the few, and so far, its major products, featuring scientific expeditions and nature education tours in the country's national nature reserves, can all be considered as fine examples of eco-tourism.
A tour billed "All about Asian Elephant" leads participants, mainly students and their parents, to Asian elephant habitats in Xishuangbanna, Yunnan province. At different sites, including Wild Elephant Valley, Mengyuan Tropical Forest under the Xishuangbanna National Nature Reserve, and Xishuangbanna Tropical Botanical Garden, they can engage scientists, conservationists, local rangers and villagers, and learn about the endangered animal's living status and environment, the threats to their survival in the wild, and the conflicts between human and elephants.
Another tour features giant pandas and their habitat in Sichuan province. Participants can become volunteers to have closer contact with giant pandas at the Bifengxia Giant Panda Breeding Center in Ya'an and explore the Liziping National Nature Reserve by staying in a research station and monitoring the animals with scientists and rangers.
Yet another takes its customers to the Yinggeling National Nature Reserve in Hainan province to learn the rich biodiversity of tropical forest and its conservation.
"The three are our major long-range products," says Luo Peng, founder of the company which was established in 2013. "They all feature the rare chance of staying in a national nature reserve, and learning about an endangered species or a unique ecosystem from researchers and rangers, and communicate with local villagers."
"It is real eco-tourism we are implementing, and hopefully it will set an ethical example," the company's website writes about the company.
"China has world-class biodiversity. And the great thing is there need not be any conflict between the economy and the environment. At the moment, there is not enough consideration of the environment in economic decision-making. That is largely because there is little about the environment in the national curriculum," Terry Townshend, a part-time tour leader and director of the company, explains why he joined EcoAction in 2014 in an e-mail to China Daily.
"So the work of organizations like EcoAction is critical to fill that gap and give young people a sense of pride in their environment and its amazing biodiversity, and an optimism about the future that China can have strong and sustainable economic growth whilst protecting its environment and conserving its biodiversity."