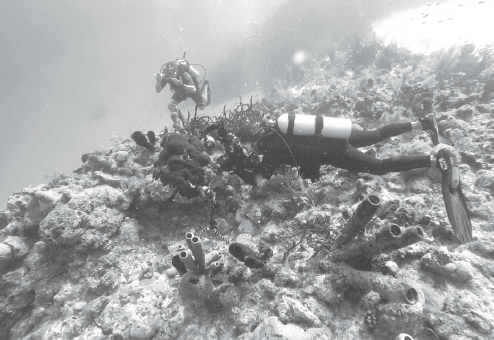 Divers make an immersion at the International diving Center Maria la Gorda on Guanahacabibes peninsula in Cuba. [Photo/AP]
The coral reefs and gin-clear waters off the coast of Cuba offer some of the best diving in the Caribbean and some of the best-preserved reefs on earth.
And if travel restrictions on U.S. tourism to Cuba are ever lifted, the remote Peninsula of Guanahacabibes could well become a popular destination for American divers.
The land and marine reserve encompasses some 200 square miles (518 square kilometers) on Cuba's westernmost tip about 135 miles (217 kilometers) northwest of Havana. It juts into the Caribbean, with protected forests on land, aquamarine waters lapping at white sand beaches and pristine coral beds teeming with a colorful variety of fish just offshore.
In some ways, the peninsula is just as frozen in time as other aspects of life in Cuba, where 50-year-old cars are common and Wi-Fi is scarce.
But the lack of change here has had a positive effect, sparing Cuba's reefs from the degradation evident in coral beds elsewhere. Lack of agricultural run-off, little coastal development and strong environmental laws have all helped keep Cuba's reefs healthy.
That said, several factors stand in the way of Guanahacabibes becoming a major tourist attraction any time soon.
For one thing, while President Barack Obama has relaxed limits on travel to Cuba, trips from the US to Cuba for pure tourism remain prohibited by US law. The Obama administration has said that it believes more US visits to Cuba will accelerate reform on the island. But Obama's critics say that US visits simply feed cash into coffers of government agencies like the military-run tour company that oversees diving in Maria La Gorda, the resort inside the Guanahacabibes reserve.
Despite the travel ban, however, thousands of Americans are visiting Cuba, some flying in via third countries like Mexico or the Bahamas, others certifying that their trips meet standards for permitted categories such as educational or cultural travel.
Another impediment to tourism here is Guanahacabibes' location. It's a five-hour drive from Havana over tortuous roads to get to Maria La Gorda.