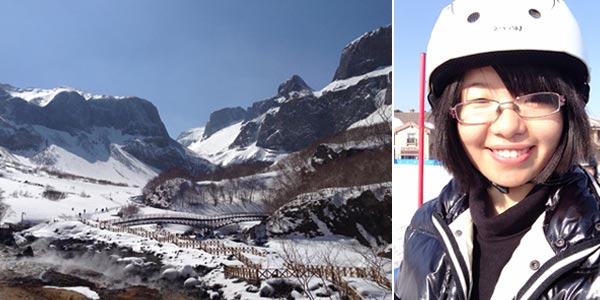 Panoramic view of Changbai Mountain; 'snow always cheers me up.' Yang Yang / China Daily
It was my third time on the ski slopes and I never felt so free, writes Yang Yang.
My mother said I was born on a snowy day, and a snowy winter always promises a good harvest in the coming year. Winter has thus become my favorite season and snow can always cheer me up.
Afraid of water, I have never been a swimmer; worried about breaking my legs, I never let myself go on ice. However, when I ski, I feel completely free on snow.
When my airplane finally landed at the airport of Changbai Mountain in Jilin province, I let out a sigh of relief. I hate flying.
The moment my friend and I walked out of the airport, the clean air filled in my lungs. Coming from a city like Beijing that is infamous for its smog, I felt this was the first time in months that I dared to take in deep breaths.
At that time, I had just finished working on a sad story about the Nanking Massacre. Having
been immersed in the bleakness of it for weeks, I wanted to free myself from the heavy history.
The holiday village served us well. Even though it was the end of March, when the skiing season was closing soon and few visitors came, the villagers didn't lower their service standards. They picked us up at the airport and sent us directly to our hotel. Our room was comfortable and breakfast satisfactory.