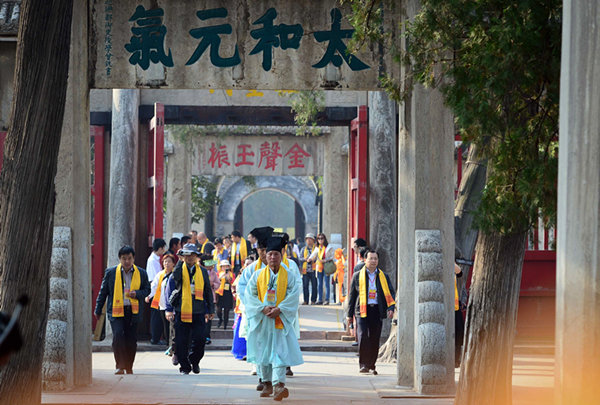 The Confucius-worship ceremony is held on Sept 28 every year to commemorate the philosopher's birthday. The Qufu Confucian Academy also organizes smaller-scale ceremonies for visitors. Photo provided to China Daily
Birthplace of Confucius brings visitors a sense of peace and history.
Want to get away from the city for a quiet weekend? Take a high-speed train from Beijing on Saturday morning and make a pilgrimage to Confucius (551-479 BC)' hometown in Qufu, Shandong province.
If you are traveling in a group, you may want to rent an electric carriage to tour the city after a brief lunch. Guides in traditional Han clothes will provide short lectures in the carriage on Confucian rituals and perform the tea ceremony. The local fine tea is certainly good spiritual refreshment, and a good way to start the journey.
First stop is the Temple of Confucius. This institution, together with the Kong Family Mansion, where Confucius' descendants lived, and the Cemetery of Confucius in the city, were anointed as UNESCO World Heritages in 1994.
The temple and the family mansion are downtown. A quick 1.5-hour tour of the two sites provides you with the rich history and philosophy of Confucian thought, and encourages you to reflect on your our own behavior in daily life.
The buildings are not as splendid as the giant palaces and temples in Beijing, but their slightly dim color may explain the vicissitudes of the times better. Passing under one arch after another, one cannot help but recall Confucius' sayings about courtesy, harmony in the family, rituals, and the many other fundamental elements that define the Chinese people's spirits.
In front of the main temple is a cluster of flourishing ancient trees, among which one is said to be more than 2,000 years old. Steles line the yard, recording celebrated people's eulogies for Confucius. Twelve of them were carved with passages written by emperors.
Kong Decheng (1920-2008), the last Confucius descendent who lived in the mansion, left Qufu for Taiwan in 1949. Today's Kong Family Mansion, with its layout and detailed presentation of life in the old days, is more of a reflection of traditional rituals in Chinese families. Confucius lived in a few thatched cabins, but rulers in the succeeding dynasties continued to enlarge the area.