Inner Mongolian delicacies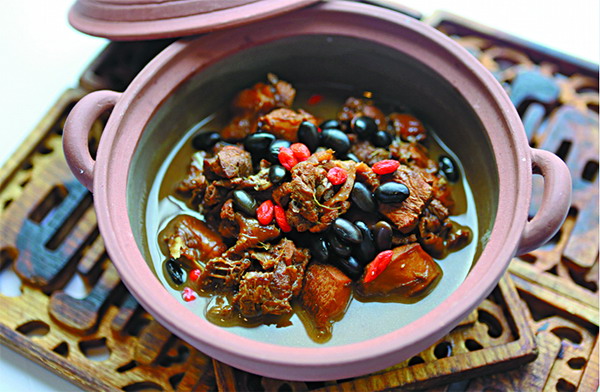 Bralsed plateau chicken with black soya bean.
Good news for meat-eaters: From now till Dec 31, you can enjoy a special Inner Mongolian menu at Made in China, the signature restaurant of Grand Hyatt Beijing. Marked by strong, local flavors and red meats such as mutton and beef, typical Inner Mongolian dishes include braised lamb, braised beef and stewed spare ribs. Meat delicacies have been favorites among the locals for thousands of years. These dishes are often prepared for special occasions, such as weddings or celebrating the elders' birthdays. A key ingredient used in many of the Inner Mongolian dishes at Made in China is yellow butter, nutritious and distinctive in flavor. Highlight dishes include braised beef flank with the herb cistanche (known as rou cong rong in traditional Chinese medicine) in casserole, Mongolian-style poached lamb with dried spices and braised plateau chicken with black soybean.
Made in China, 1/F, Grand Hyatt Hotel, 1 Dongchang'an Jie, Dongcheng District.
Hilton wine expo
The 17th International Food & Wine Experience will be held at Hilton Beijing on Nov 15. The event will feature hundreds of local and international wines complemented by delicacies from all over the world. Visitors this year will find a few new twists added to what is the longest-running event of its kind in the city, including live music performances, a wider selection of domestic wines, and a kiddies' play area. Also look for wine training, tastings and pairings with chocolate and coffee.
17th International Food & Wine Experience: Nov 15, 11 am - 7 pm at Hilton Beijing, 2/F and 3/F, 1 Dong Fang Road, North Dong Sanhuan Road, Chaoyang district; entry tickets start 88 yuan at 11 am; more expensive ticket options later include lunch or dinner.