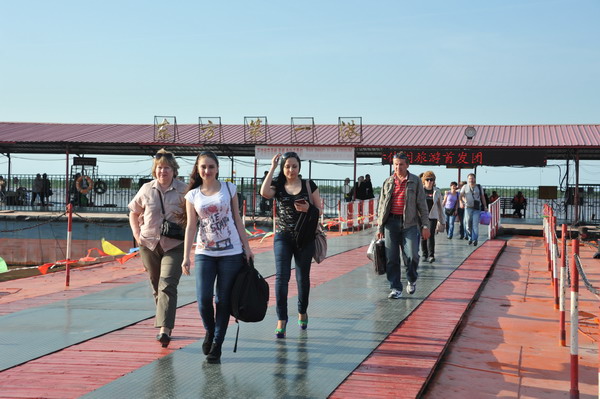 Russians pass China's easternmost port.
Jiamusi that borders Russia in Heilongjiang province is known as the first Chinese town to see sunrise everyday as it sits on the easternmost tip of the country.
With a population of 2.4 million, Jiamusi neighbors several key Russian cities across border rivers and attracts hordes of Russians who come over for business, study and recreation. One of the key tourist attractions near Jiamusi is the Chinese part of Heixiazi (Bolshoy Ussuriysky), a Sino-Russian border island located at the intersection of the Heilongjiang (Amur) and Ussuri river. The western half of the island now belongs to China, while the other half belongs to Russia.
The Chinese part of the island that features a wetland nature reserve, a former Russian military camp and monuments that mark China's boundary with Russia, has been open to Chinese tourists since 2011. Besides unique border-town scenes, Jiamusi has also earned nationwide distinctions as a top Chinese garden city and summer resort. It also boasts one of the best choreographed square dances that attracts Da Ma or the old women who gather every morning and evening to dance.