A very special charity bazaar took place on Saturday morning in Beijing's Chaoyang Park. Foreign diplomatic missions and international organizations in China set up booths to raise money for renovations in poor areas of Yunnan province.
More than 70 foreign embassies and international organizations, as well as nine domestic businesses, were invited to the charity sale, Love Knows No Borders.
The event was organized by Le Aimei, wife of Chinese Foreign Minister Yang Jiechi. After the opening ceremony, the couple toured around the booths lining up the park's Lihua Plaza and Sunken Square.
There were nearly 100 booths, many of which were operated by the ambassadors themselves, offering exotic foods, books, clothing and handicrafts.
According to the Ministry of Foreign Affairs, about 1.4 million yuan was raised at the sale last year to help people with disabilities. This year, the proceeds will be used to fund a renovation project in Yunnan's poor mountain villages Jinping and Malipo.
Visitors to the charity sale can buy tickets at the park entrance for 10 yuan, which will also go directly to the cause.
According to sources from the Ministry of Foreign Affairs, the group collected nearly 3 million RMB ($470,000) by the end of the one-day event.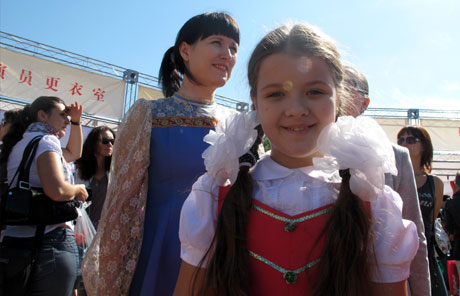 Video & reporter: Christie Lee
Videographer: Lin Hanqing
Producer: Flora Yue