Nancy McKinstry, head of one of the world's largest publishing organizations, believes China is rapidly advancing into the digital publishing age.
The 52-year-old is chief executive officer of Wolters Kluwer, the Dutch-based global publisher of information for professionals such as lawyers, accountants and those in healthcare.
"China is still primarily print based but it is moving rapidly into the digital world, not just using online products but tablets and smart phones as a way of accessing information," she says.
McKinstry, who was ranked by Forbes as one of the 100 Most Powerful Women in the World and by the Financial Times in its top 50 Women in the World list, was in the Chinese capital to attend the 18th Beijing International Book Fair, where she was to launch a number of publishing projects, including a deal with The Commercial Press in China to bring two Chinese legal books to an international audience.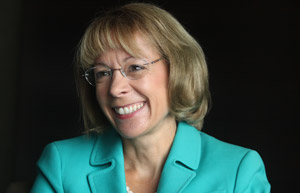 Related story:
video: Huang Lan
Videographer: Huang Lan & Cong Ruiting
Presenter: Andrew Moody
Producer: Flora Yue