The 2011 New York China Yunnan Ethnic Arts Exhibition took place at the United Nations headquarters on Aug 26. The show featured the unique culture of China's ethnic groups from Yunnan province.
Yunnan province is located in the mountainous southwest region of China, spanning about 394,000 square kilometers with a population of more than 46 million.
Hundreds of guests attended the event, including Gordon Jonson, a member of the Assembly of New York, Noel Brown, the president of the Friends of United Nations, and Zhou Yanyu, the vice president of the Confucius Institute at Pace University.
The exhibition presented Chinese painting, calligraphy, ethnic costume design, traditional dancing, as well as martial arts performances. The four-hour program will move to New Jersey for an exhibition in September.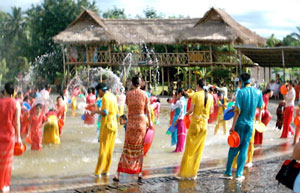 Reporter: Yuhan Liu
Video: Yuhan Liu & Junliang Huang
Producer: Flora Yue & Chen Weihua