Cheering fans resembled a wave circling Shenzhen's Window of the World, a theme park hosting Universiade's closing ceremony.
At 8:00 pm Tuesday, when the lights dimmed, 500 performers ran to the stage to present the theme of the closing ceremony: "Shenzhen Party". Performers threw sachets, embroiled silk balls and Chinese knots to the audience as the first chapter concluded to rounds of applause.
The following performances included Tibetan, Irish and American tap dancing, Peking opera, acrobatics and martial arts.
The closing ceremony also featured a special session to thank representatives from the volunteer teams, media, security and the host city of Shenzhen.
The host city for the 2013 Universiade, Kazan in the Russia Federation, staged a 10-minute long performance shortly after the FISU flag passing ceremony.
The ceremony is considered a major break through in the history of Universiade, because this is the first time that such a closing ceremony has been held outside the main stadium.
The organizers had promised a ceremony that is "simple in style but fancy in content". The 48-hectare miniature world was revampep specifically for the event.
The venue also has 6 giant gates symbolizing the cradles of the world's ancient civilizations, and a magnificent stage for the artists around the world.
More than 4,000 athletes and administrative staff from five continents found familiar cultural icons from their home countries and elsewhere in this "mini world" of beautiful natural scenery and cultural heritage.
Starting Aug 12, Shenzhen 2011 Universiade welcomed more than 7,500 athletes from 152 countries and regions around the world.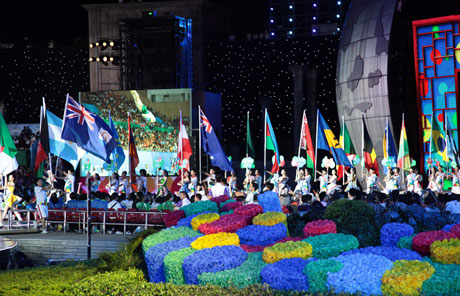 Video: Xing Xudong & Huang Lan
Producer: Flora Yue