The man playing the djembes is named Ke Bo. If you think he is a musician, you are only half right. He is a therapist of the Music Mental Decompression Curing Center in Shenzhen's Universiade Village.
Ke has been working as a music therapist for many years in Shenzhen. When he found out the city was chosen to host the 26th summer Universiade, he decided to bring his team to provide music therapy service.
This is the first time music therapy has been available at Universiade, and it's a full-scale operation. Twelve therapists share shifts between 10am and 10pm everyday during the Universiade to help clients relax.
The center offers two main kinds of music therapy: listening and creating.
In this room, a therapist will listen to music with a client individually and talk about the feelings or memories it evokes.
The therapist will link the client's index finger to a device, which helps generate a stress curve. The therapist will then provide advice to ease the stress after the therapy session.
Another kind of music therapy is more suitable for team players.
Various musical instruments, such as drums, the Chinese zither and cucurbit flute, are available here in the music therapy center. Ke and his colleagues will show the clients how to play, and sometimes they will perform impromptu for the clients.
After the Universiade, Ke Bo hopes to expand his work throughout Shenzhen's communities.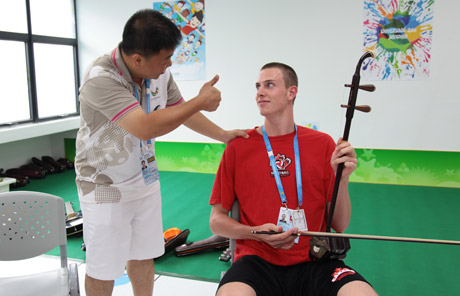 Video: Huang Lan
Producer: Flora Yue