SHENZHEN- A news conference was held Thursday morning local time at the main media center by FISU, the governing body of the international university sports organization.
Newly elected president Gallien chaired the meeting and said the preparation for the 2011 Shenzhen Universiade so far is impressive.
"It's the third time for China to hold the Universiade after Beijing and Harbin," he said. The Chinese hosts have provided excellent venues, training sites and accommodation. Shenzhen also has strong media support, and the biggest TV coverage ever in the history of Universiade.
The Universiade offers opportunities to students, athletes and official delegations to take part in this massive event. Many sports that cannot be included in the Oympic Games and Asian Games have a place in the Universiade, such as golf, chess and acrobatics.
The French former vice-president of FISU and university hammer throwing champion - Claude-Louis Gallien - overcame incumbent George Killian with 76 votes to 67 at the FISU General Assembly in Shenzhen.
All of the executives will serve in their new positions through to 2015.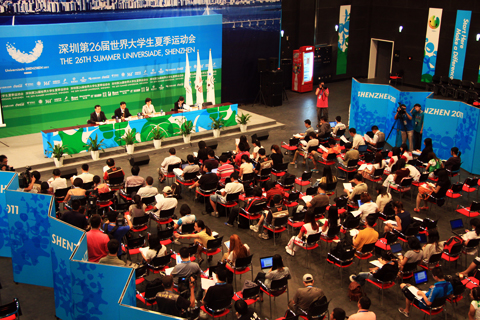 Video: Xing Xudong & Huang Lan
Voiceover: Xing Xudong
Producer: Flora Yue