Cementing China-Japan relations is of vital importance to the two countries but territory issues remain the largest obstacle for its development, according to a poll conducted in both nations.
Released on Thursday in Beijing, the Public Opinion on China-Japan Relations 2011 survey reveals insightful new developments into how people in each country view one another.
This year's poll, sponsored by China Daily and the Japanese non-profit think tank Genron NPO, shows about 83.1 percent of the general public and 88.6 percent of university teachers and students in China think relations between the two nations are "very "or "quite" important. About 41 percent of the public and 30 percent of university teachers and students in China are optimistic about the prospect of future ties.
But the collision between a Chinese fishing boat and a Japanese patrol vessel in waters near the Diaoyu Islands in 2010 and this year's Fukushima nuclear crisis caused a downgrade in the Chinese public's impression of Japan.
About 29 percent of Chinese had a favorable opinion towards Japan, a decline of 10 percent over last year. That's the first drop since the annual survey was started in 2005.
When asked about the future of Sino-Japanese ties, about 58 percent of Chinese said territory issues remained the major stumbling block. Lack of mutual trust among the people and disputes over sea resources are the other two main sources of contention for relations between the two countries.
The annual opinion poll, the only one taken simultaneously in the two countries, is part of the Beijing-Tokyo Forum which will be held from August 21 to 22 in China's capital.
The forum, co-sponsored by China Daily and Genron NPO, has been held alternately in Beijing and Tokyo since August 2005. The annual gathering is one of the most significant platforms for non-governmental communication between the two countries.
Chinese who have favorable opinion towards Japan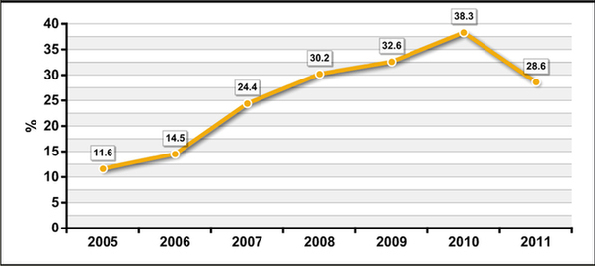 Horizon Research Consultancy Group

Video: Yu Chenkang & Lou Yi
Edit: Yu Chenkang
Voiceover: Chris Clark
Producer: Flora Yue