Members of the public were invited to view and have their say on all 43 entries to this year's "Green Your School" grand final, by going online and entering a specially designed virtual conference centre. More than two and half million votes were cast over the final month ending last Sunday, far more than the joint organisers, the British Council and Chinese website Sohu had anticipated.
By D J Clark
Related story: Problem solvers
Click here to see more videos by D J Clark

About D J Clark: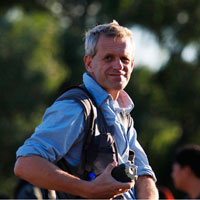 D J Clark has worked worldwide as a multimedia journalist for more than 20 years.
As well as working for China Daily he runs an MA course in Multimedia journalism at Beijing Foreign Studies University and is the Director of Visual Journalism at the Asia Center for Journalism in Manila, Philippines.