The Central Axis of Beijing is as old as the city itself. It was laid out in 1403 and can be traced even further back to the Mongol capital Dadu. This 7.8km-long stretch is therefore as integral to the city as anything. All the most important pieces of architecture in the city, like the Temple of Heaven, the Imperial Palace and the Qianmen gate were placed either directly upon or alongside the Axis.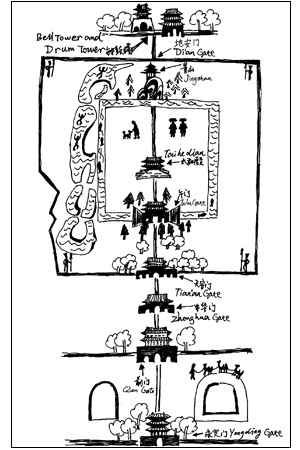 At "The Central Axis of Beijing – a photo exhibition", Beijing Postcards put pictures taken along the Axis on display. The pictures cover the period from 1890 to 1960, with the bulk of the pictures taken in the 1930s.
All the pictures come from Beijing Postcards own collection. The eye catchers are the "Tiananmen square" as it looked in the 1930s and The Tiananmen gate with the portrait of Chiang Kai Shek hanging on it. But all the pictures contain a very unique charm. Small details like the Bell Tower being a cinema in the 1920s reveals themselves if you look close enough.
Apart from this, a side exhibition also tells the history of photography in China.
Time: 10:30 am – 10:30 pm
Dates: Sept 24 - Nov 23
Ticket price: Free
Address: Gift One, No. 69 Yan Dai Xie Jie, Xicheng district
Related video: Old Beijing once more
Visit BEIJING POSTCARDS