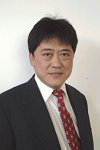 Steven Wong
Executive Chairman of the United Chinese Association of Eastern America
Chairman of Lin Zexu Foundation of U.S.A
Chairman of US-China Relations Research Center
Steven Wong was born in Hong Kong in the 1950s. He immigrated to the States in early 1970s with the family.
In 1995, he single-handedly set up Lin Zexu Foundation of U.S.A and built the bronze statue of Lin Zexu, the Chinese national hero in the Chinatown in downtown Manhattan.
On June 30, 1997, Wong involved the local Chinese community and 250 journalists from all over the world to mark the special moment of handing-over of Hong Kong to China in a grand celebration in NYC.
Wong was also among the first in the overseas Chinese community to react to occurings of May 12 Wenchuan Earthquake, March 14 Lhasa rioting, and the July 5 Urumqi rioting this year.
As a Chinese American, Wong has been a watcher of the Sino-US relations since the bilateral diplomatic ties were established in 1979.
Video:Yu Chenkang