Eden of the East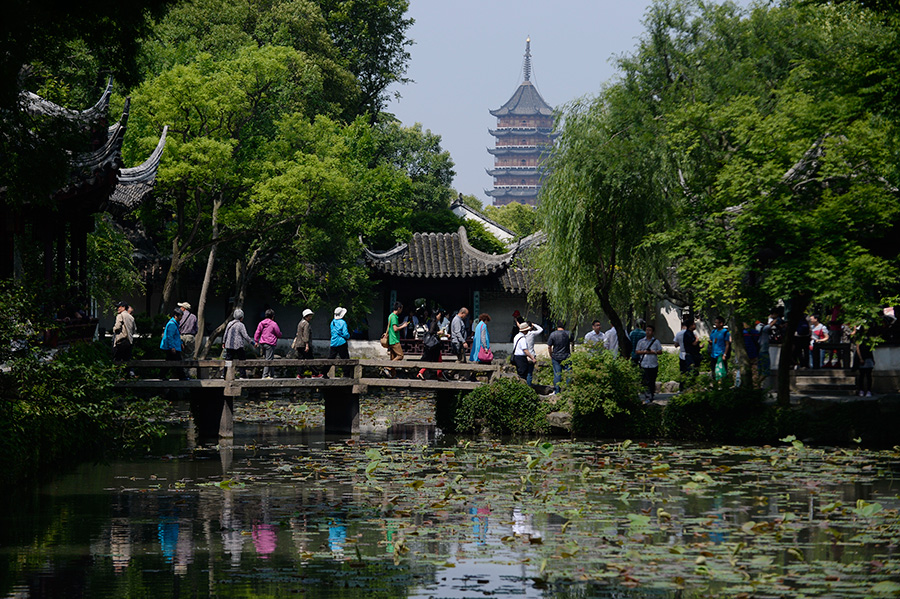 [Photo/Wei Xiaohao/Wang Qiming/Wang Jianzhong/China Daily]
DAY 2
Taihu
Think of Hong Kong. Then think of a freshwater body twice its size.
That's Taihu Lake.
A local saying declares of its shores: "A different flower every month, a different fruit every season, and fish and shrimp every day of the year."
Indeed, throughout the calendar's fluctuations, the area's flora heaves with peaches, waxberries, pears, tangerines and gingko seeds.
Boats to Jade Island offer tea picking and fruit harvesting.
The lake is ringed by 365 kilometers of bike trails.
Woodpeckers tap trees while egrets wade through water in Taihu's admission-free ecological park.
The park features a laser fountain show that casts colors on a 30-meter-wide screen of aerosol that sprays 130 meters into the air over the lake.
Lights! Water! Action!
Ebizui Park
Ebizui is today a placid place built over wars and woes.
That's not to mention eyes that foresaw the future before being scooped out upon their owner's request at the moment of his compulsory suicide, as is the tale of Wu Zixu.
A pavilion honoring him is perched on the peaceful river shores that have served as the staging points for military attacks, from imperial times to roughly a century ago.
It's a longstanding war zone-replete with bomb shelters and cannon-transformed into a picnic destination, where families wade in wistful waves that caress shores garlanded with greenery.