Eden of the East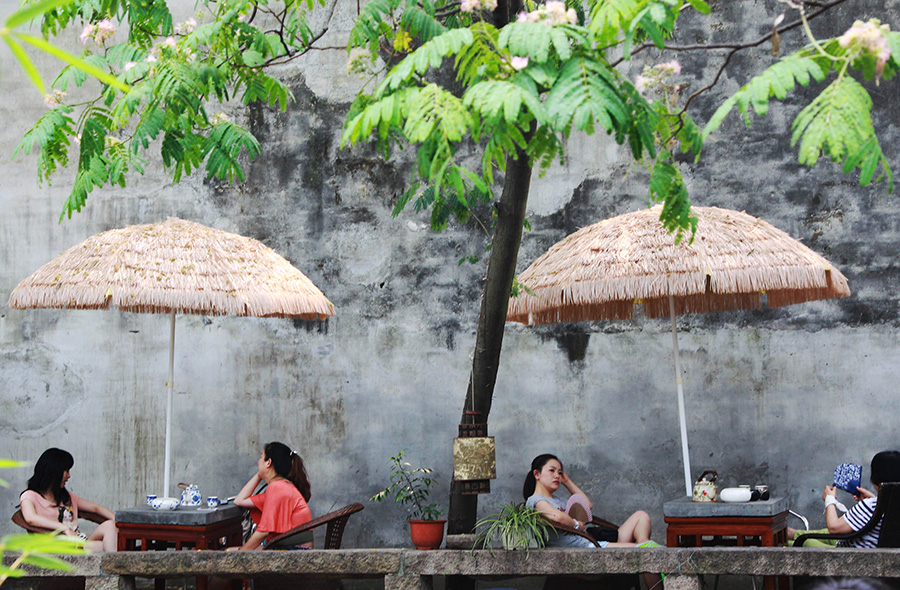 Visitors take a rest at a roadside tea shop at Pingjiang Road. [Photo/Wei  Xiaohao/Wang Qiming/Wang Jianzhong/China Daily]
Zheng He Memorial Park
Zheng He "walked like a tiger" and spoke with "the clamor of thunderous bells".
So it's said.
He also explored foreign lands.
That's for sure.
The 100-hectare Zheng He Memorial Park hosts monuments to China's celebrated navigator, the nation's answer to Magellan.
A replica of the eunuch explorer's ship bobs next to a statue of the voyager that's 18 meters high-because he was 1.8 meters tall-on a pedestal that's 2.8 meters high-since his voyages spanned 28 years.
It's an impressive sight, even if the scale metrics' symbology is lost on casual visitors.
The Zheng He Memorial Hall's Tunnel of Time depicts the progression of China's maritime expeditions over millennia.
There are replicas of exotic curiosities-zebras, camels, ostriches-for which he traded Chinese goods like tea and silk.
The giraffe he brought from Africa became an official talisman, since it resembled the qilin, a mythical Chinese totem that proclaims the birth or passing of a great sage.