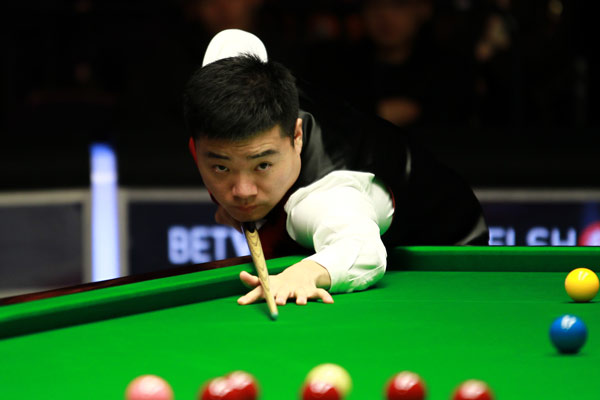 Ding Junhui of China plays a shot during the first round of the Welsh Open in Cardiff, England, Feb 15, 2016. [Photo/CFP]
LONDON - China's Ding Junhui eased into the second round of the Welsh Open in Cardiff with a 4-1 win over 20-year-old Steven Hallworth on Monday.
Ding, who has slipped to 13th in the world rankings from No 1, defeated the 102nd-ranked Englishman in a match highlighted by breaks of 86 and 79.
"I have done a lot of work with (coach) Terry Griffiths and he has helped me," said Ding. "We've been going through what to do every day in practice and I have learned a lot. My ranking is not going well so I will try to do my best to stay in the top 16."
Ding, who won the tournament in 2012, will next face 46-year-old Joe Swail in the round of 64 on Tuesday.
Only five of the 14 Chinese players advanced into the second round. Liang Wenbo, the beaten finalist at the UK Championship, crushed Egyptian Hatem Yassen 4-0.
Tian Pengfei beat Ashley Hugill 4-2 to set up a second-round clash against Ronnie O'Sullivan. Li Hang whitewashed Chris Melling 4-0 and Yu Delu edged out Ian Glover 4-3.
Li will next face Joe Perry while Yu play Ricky Walden.
O'Sullivan reached the second round by beating Barry Pinches 4-1, though he turned down the chance of a 147 in the final frame, citing the prize money of 10,000 pounds was too little.