Match fixing fears raised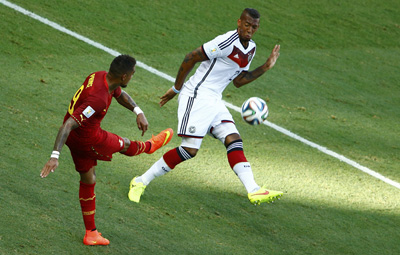 Germany's unexpected 2-2 draw with Ghana in the second round of Group G matches came under suspicion of match fixing after British betting company William Hill reported unusual betting patterns and warned of possible Asian match-fixers.
FIFA confirmed the suspicion, head of security Ralf Mutschke saying: "We didn't want to but had to admit that some games are targeted."
Other matches are suspected of being involved. New Zealand referee Peter O'Leary was spotted 'celebrating' with Nigeria, after they had beaten Bosnia and Herzegovina 1-0 in Group F having ruled out a perfectly good strike from the Europeans. World Cup finals debutants Bosnia were outraged and thousands of fans generated 20,000 signatures to remove O'Leary who is officiating at his second tournament.
Suarez may have bitten off more than he can chew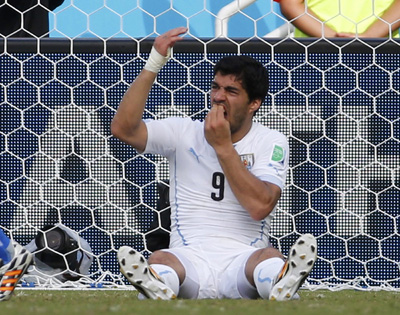 Uruguay striker Luis Suarez is embroiled in another biting controversy after TV replays showed Italy defender Giorgio Chiellini with an apparent bite mark on his left shoulder. "FIFA can confirm that disciplinary proceedings have been opened", a statement said. Already banned twice in his career for biting opponents, Suarez could face a ban of up to 24 months if found guilty of a third incident.
Suarez was banned for seven matches in 2010 while playing for Dutch club Ajax after biting PSV Eindhoven midfielder Otman Bakkal in a league match. Three years later the now Liverpool striker was subject to a 10-match English Premier League ban for biting the arm of Chelsea defender Branislav Ivanovic.
Italy coach Prandelli quits after group stage exit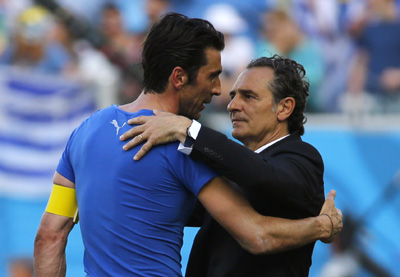 Italy coach Cesare Prandelli has resigned following the team's elimination on Tuesday. It was the second consecutive instance Italy failed to progress beyond the group stage after winning the tournament for a fourth time in 2006.
"It's my responsibility and my fault. When the game plan fails the person responsible must go," Prandelli, 56, said.
He took the Azzurri's top job after the 2010 tournament and guided them to the final of Euro 2012. His resignation comes less than a month after signing a deal that extended his contract until July 2016.
Former Manchester City coach Roberto Mancini, who parted company with Turkish club Galatasaray a fortnight ago, has been installed as an early favorite to take over.
Messi reveals birthday wish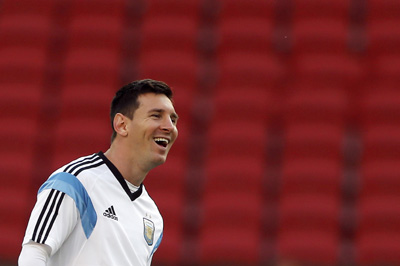 Lionel Messi said his 27th birthday wish is to lift the World Cup at Rio de Janeiro's Maracana Stadium on July 13.
The Argentina and Barcelona forward took to Facebook on Tuesday to thank fans for their congratulatory messages. "Thanks a lot for all your birthday wishes," Messi wrote. "My perfect gift this year would be to win the World Cup, but first we focus on (Wednesday's) game (against Nigeria in Group F) and topping the group."
Messi has more than 59 million fans on the social media site.
Mondragon a golden oldie
Colombia goalkeeper Faryd Mondragon became the oldest player to compete at a World Cup finals when he went on as a late substitute in the 4-1 win over Japan in Group C on Tuesday.
Mondragon, 43, was an 85th-minute replacement with his team 3-1 ahead to eclipse the record of Cameroon striker Roger Milla who was 42 when he played in the 1994 tournament in the United States.
Mondragon, who produced one fine save to keep the score at 4-1, jogged onto the pitch to a thunderous ovation from the large pro-Colombian crowd, and left with the match ball under his arm.
He even earned words of praise from FIFA President Sepp Blatter. "Congratulations to Faryd Mondragon for being the oldest player in the history of the World Cup," Blatter posted on Twitter. "Age is not a limit!"