Neymar leads Brazil through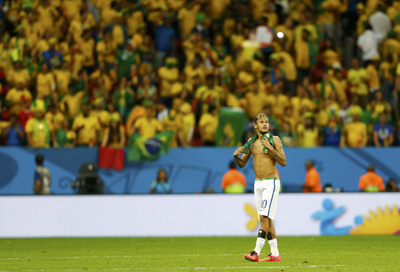 Poster-boy Neymar scored twice in a 4-1 demolition of Cameroon to become the tournament's top scorer with four as Brazil advanced to the knockout stage as winner of Group A with seven points.
The 22-year-old striker scored his first with a subtle flick and added his second going on a darting run before wrong-footing the Cameroon goalkeeper with a right-foot drive.
His first goal was fittingly the 100th of a high-scoring tournament in what was Brazil's 100th World Cup game.
Swan song for Spanish veterans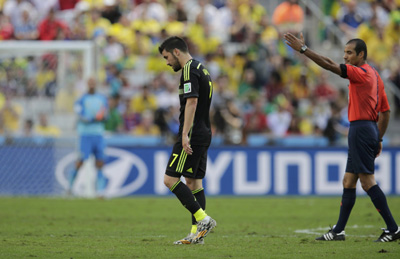 The international futures of captain Iker Casillas, Fernando Torres, Xavi Hernandez and Xabi Alonso have been called into question after the 3-0 win in the dead rubber Group B game against Australia.
David Villa, on his 97th and final appearance, opened the scoring with his record 59th goal and became emotional after being replaced, burying his head in his hands.
"I thought about everything (the team has) given me...to play for the Spanish team, from the very first day, has always been a great pleasure," he said.
With Spain's domination now at an end, the task ahead is to manage the transition from an aging squad that has won everything to a new generation of players waiting to take center stage. "We went out with dignity," coach Vicente del Bosque, whose own future is not assured, said.
Mexico leaves it late
Mexico wowed the world with a late goal haul to beat Croatia after having earlier stolen the limelight from Brazil with super goalkeeper Guillermo Ochoa display in the second game of the group stage.
Veteran Rafael Marquez scored with a header that Croatia's keeper Stipe Pletikosa might have nightmares about after the ball appeared to slip though his gloves in the 72nd minute.
Ten minutes later, Javier Hernandez, the Manchester United striker who has been a second-half substitute in all three El Tri matches, scored with a header after Hector Herrera's corner had glanced off the head of Marquez.
Mexico entered the game needing only a draw, but played aggressively and looked dangerous in attack even before their late breakthrough. The result gave Mexico a second-place finish behind Brazil and set up a second-round meeting with Group B winner the Netherlands.
Japan media mocks China's enthusiasm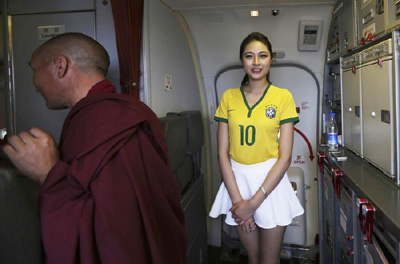 A Japanese news crew made fun of China's soccer fever, reporting on Chinese flight attendants donning Brazil's team jersey.
Rocketnews24 reported on the in-flight service of Lucky Air, a domestic Chinese airline based in Yunnan province, saying: "With no home jersey to don, the lovely ladies of Lucky Air have chosen to wear the host team's yellow and green kits."
"Their choice of jersey may seem odd, until you realize China's men's team is ranked 103rd in FIFA's rankings, just one spot behind Equatorial Guinea."
Chinese girl chases Messi in Brazil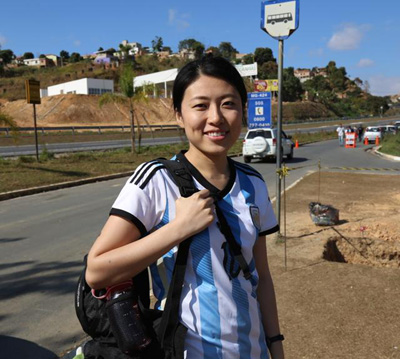 Cui Xu, an avid fan of Argentina star Lionel Messi, flew to Brazil to watch the team, taking with her 70,000 yuan ($11,207) she had saved for the trip.
Cui, from Zhuhai, South China's Guangdong province, followed Messi around the Latin American country and has watched every game he has played so far.
She bought last-16 and quarterfinal tickets from scalpers before going to Brazil as she believes Messi will lead Argentina far into the tournament.
Cui said she watches every game Messi plays and has been to Barcelona to see a La Liga game in which Messi led Barca to victory over Atletico Madrid with a hat-trick.
China's women benefit from FIFA handout
The first $250,000 of the $750,000 due to the Chinese Football Association as part of World Cup sponsorship for each of FIFA's 209 members had been paid, and almost half will go towards development of the women's game.
The handout was promised by FIFA President Sepp Blatter to member associations and thanks to the CFA's early submission of paperwork China has received the first part immediately. After final financial details of the tournament are known by the end of the year, associations will receive the additional $500,000 at the start of 2015.
FIFA rules state that a fixed 15 percent of associations' income must be for a particular purpose in the development of women's football. That means $112,500, almost half of the first payment, will help the Chinese women's team as their qualifying award for next year's Women's World Cup in Canada has not yet been paid.