Spain joins 'club of death'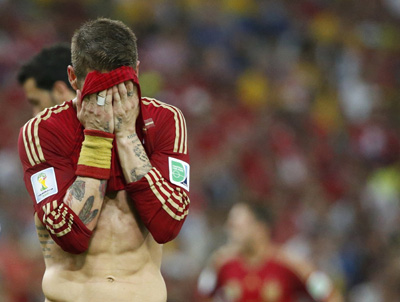 Holders Spain failed to shake off a jinx that has affected the defending champion at four previous tournaments, becoming the fourth country to experience the humiliation of bowing out at the group stage.
Italy (1950 and 2010), Brazil (1966) and France (2002) had previously suffered the ignominy.
Thrashed 5-1 by 2010 runners-up the Netherlands in their opening Group B game, Spain's normally composed and incisive players again looked a spent force, allowing Chile to score twice in the first half then hold firm for a completely deserved and glorious win. 
Speed king Robben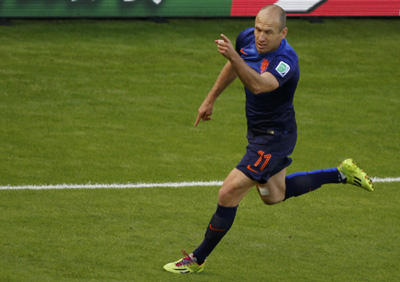 Despite being in his 30s, Arjen Robben showed that he is among the fastest attackers in football, sprinting half the length of the pitch from the Australian midfield before driving in a low shot to open the scoring in their Group B match.
A CCTV World Cup program timed how fast the goal was. At 19 minutes 24 seconds Robben was vying for the ball with Australian defender Alex Wilkinson and at 19 minutes 28 seconds the ball crossed the goal line. Robben had raced about 50 meters in less than 6 seconds at a speed of 44.5 kilometers per hour.
Beleaguered ref relegated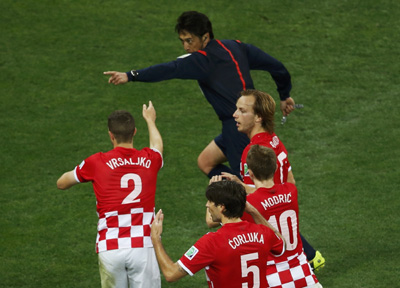 Under-fire Japanese referee Yuichi Nishimura has kept his job at the World Cup but after the controversial tournament opener between Brazil and Croatia has only been named as fourth official for the Honduras vs. Ecuador Group E match on Friday.
Nishimura angered Croatia by awarding a contentious penalty which proved the turning point in Brazil's 3-1 win in Sao Paulo.
Out of tune Song costs Cameroon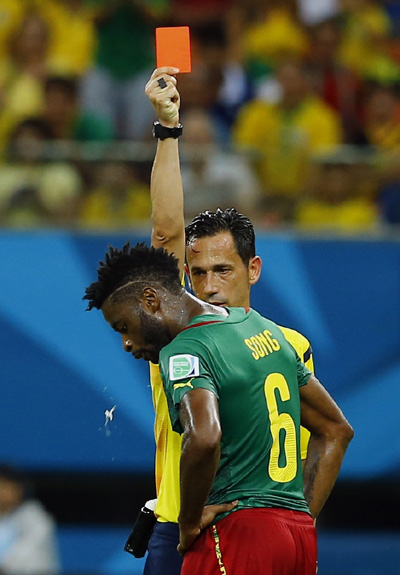 African hopeful Cameroon's day went from bad to worse in Group A, ending in chaos and elimination.
The day turned bad in the 40th minute when midfielder Alex Song chased Croatia forward Mario Adzuki before inexplicably elbowing him in the back, drawing an immediate red card from referee Pedro Proenca of Portugal. At the time Cameroon only trailed 1-0.
Things got worse, with Cameroon trailing 4-0 in injury time, when defender Benoit Assou-Ekotto head-butted forward and teammate Benjamin Moukandjo in front of their own goal, and the pair briefly scuffled before the match mercifully ended.
Problems within the squad had begun long before the tournament. They arrived late in Brazil after a dispute over bonus payments. "This team has shown some things that are not acceptable," said German coach Volker Finke, "and there will be consequences for the players involved, definitely."
Teen fan dies after TV marathon
A 19-year-old university student in Hunan province died after watching the NBA finals on TV following an overnight viewing of the World Cup.
Schoolmates took emergency action when they saw Jiang Min (not his real name) begin to convulse and lose consciousness. Meanwhile they called an ambulance and police and phoned his parents and teachers.
Jiang was sent to a local hospital but died an hour after his father arrived.. Doctors suspect Jiang died of a heart attack.