Ronaldo's last-minute assist saves Portugal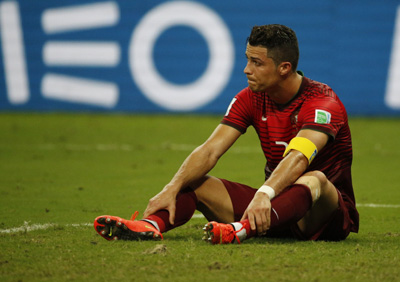 Cristiano Ronaldo's last minute cross set up a late equalizer for Silvestre Varela to secure Portugal a 2-2 draw with the United States and keep alive hopes of a spot in the second round.
In the final seconds of stoppage time, Ronaldo sent a long range cross into the area and found second half substitute Varela whose powerful header left desperate American goalkeeper Tim Howard helpless and stunned the US coach Jurgen Klinsmann.
The draw gave Portugal its first point from two games, level with Ghana but three points behind Germany and the US, both with four points.
Portugal still has the chance to qualify for the knockout stage but only if they beat Ghana by a big margin  and Germany lose to the US in Group G's final games.
First World Cup water break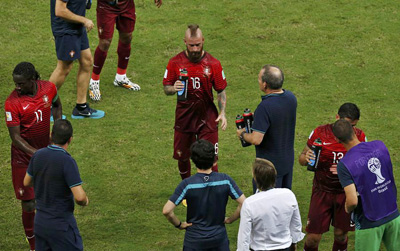 Argentinian referee Nestor Pitana stopped play for a discretionary water break - the first time at a World Cup - due to the heat and humidity in the jungle venue of Manaus during the Group G match between the United States and Portugal.
Players from both countries were significantly affected as the temperature in the Amazonian stadium reached 86 Fahrenheit (30 Celsius degree), with 66 percent humidity, according to the FIFA website.
A Brazilian court on Friday ordered mandatory water breaks every 30 minutes if the temperature reached and exceeded 90 Fahrenheit (32 Celsius degree) and FIFA said it had already recommended one short hydration break in each half in such conditions.
Flying Dutchman starts a craze
Fans wasted little time photographing themselves — and even their babies — in similar poses to Robin van Persie diving to head a goal during the 5-1 thrashing of Spain to give birth to the "Persieing" meme.
The Netherlands captain flung himself at a long pass and headed the ball over Spain goalkeeper Iker Casillas to create what is sure to be one of the goals of the tournament in Brazil.
The flying Dutchman's momentum sent him sliding on his stomach across the damp turf of Salvador's Arena Fonte Nova, his arms stretched out to either side.
Welcome distraction from Wimbledon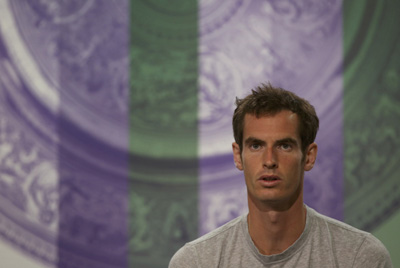 Andy Murray says the World Cup is a welcome distraction from tennis for those competing at Wimbledon. "…Pretty much when you walk into the locker room most mornings, that's what almost all of the players are talking about," Murray said. "World Cup gives me something to do in the evenings."
Murray's England failed to progress out of the group stage, meaning more interest might be focused on Wimbledon in the UK. Defending champion Spain, with Rafael Nadal one its biggest supporters is also out.
"A lot of the Spanish guys have been a little bit quiet the last few days," Murray said, smiling.
Klose celebrates record with imperfect somersault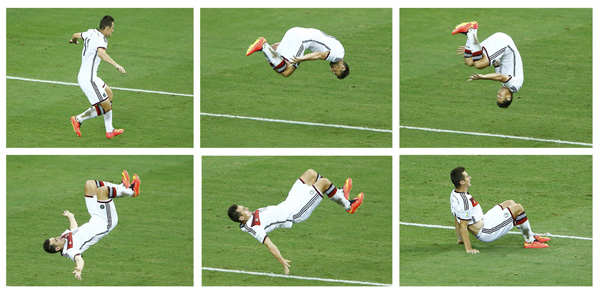 Makeshift striker Miroslav Klose celebrated his 15th World Cup goal with a trademark somersault but ended with a flawed landing.
The 36-year-equaled Brazilian star Ronaldo's record tally equalizer only a minute after leaving the bench in the second half for his first appearance in his fourth World Cup.
"It was complete, but I can't remember the last time I did it," Klose said of his stunt. "15 goals in 20 matches, that's not bad. But the important thing is to play well against the United States."
Figo drops hint about coaching China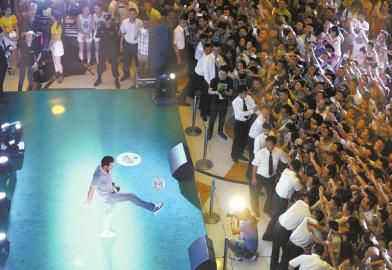 "I certainly would", former Portugal captain Luis Figo said without hesitation when asked if he would like to coach the Chinese national football team, during a meeting with fans in Chengdu.
There is no plan for him to be involved but Figo surprised fans with his assertion: "Under my coaching, the Chinese team would have the chance to rank first". He also said that the enthusiasm of so many Chinese people would contribute to the development of the sport in the country.
He suggested in a lighthearted manner that people should bet on either Mexico, Chile, Germany, Argentina or Brazil as the winner of this year's event, and – when pressed - singled out Germany as most likely to win after witnessing the Germans beat his country's team 4-0 in the first round.
The former captain also spoke of his admiration for his successor Cristiano Ronaldo. "He has always been a very good player."