Suarez: from zero to hero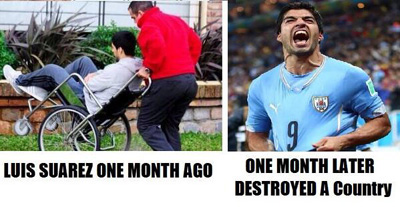 Uruguay was concerned about the state of Luis Suarez's knee less than a month after undergoing arthroscopic surgery. Considering the wild celebrations that followed their 2-1 Group D win over England they need not have worried.
Having missed the opening defeat to Costa Rica, Uruguay's talisman returned to score both goals and send England to the verge of group stage elimination.
Of Uruguay's six efforts on target, five were from Suarez, as England's slack defending was exploited and he had the last laugh on his five Liverpool teammates in the 23-man England squad.
Vilified after being banned by the English Football Association for racially abusing one opponent and biting another in separate incidents in the Premier League, Suarez, English soccer's double Player of the Year last season, reveled in inflicting England's second successive loss in Brazil.   
Rooney breaks World Cup duck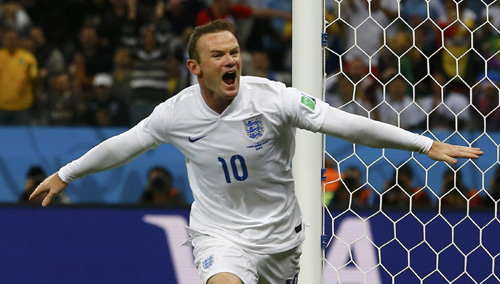 At last, Wayne Rooney delivered his first goal for the Three Lions on the biggest stage to shake off constant questioning surrounding his underperformance at the World Cup.
The 28-year-old Manchester United striker had recorded 28 career shots, with eight on target, from his three World Cup finals appearances. He finally, found the back of the net in the 75th minute, scoring from three yards with his left foot from a low pass by Glen Johnson to level the scores at 1-1.
England hopes were shattered 10 minutes later when Suarez netted his second of the night.
Pepe escapes with one-match ban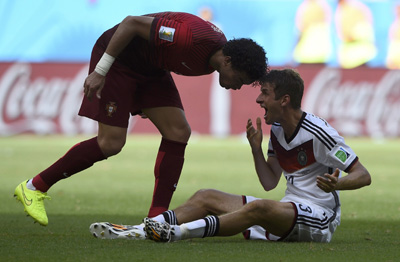 FIFA has cleared Pepe to play in Portugal's final Group G match by banning him for only one game for the red card he received after head-butting Germany's Thomas Mueller.
Pepe will serve his suspension when Portugal plays the United States on Sunday and can face Ghana next Thursday.
FIFA also fined Pepe 15,000 Swiss francs ($16,800).
How far can friendships stretch?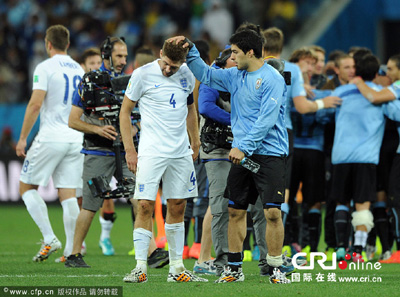 Luis Suarez patted Liverpool teammate Steven Gerrard on the head after the match to "thank" him for "assisting" in his winning goal to send England to the bottom of Group D.
With the sides' level at 1-1 in the 85th minute, Suarez ran on to a long clearance accidentally headed forward by Gerrard. There appeared no reaction to his injured knee as he unleashed a drive goalkeeper Joe Hart barely saw fly past him before Suarez was mobbed by delirious teammates.
The Uruguayan did express some sympathy for Gerrard, "He's the best player I've played with (for Liverpool)," he said. "This is an unlucky moment for him. I don't like it when he hurts like this."