The Denver Broncos and Seattle Seahawks had their first look of the week inside MetLife Stadium on Saturday with Denver coach John Fox sensitive about prying eyes on Super Bowl eve.
The Broncos' afternoon walk-through in sweats was light and fun, although security workers kept having to shoo away stadium employees trying to catch a glimpse of practice and Fox did not keep his team on the field for long.
"Typical Saturday practice," Fox said.
"Just a review, pretty much. Maybe not everything we're going to do, because you don't know what security is like here. But it was beneficial."
The only Denver player not expected to participate Sunday night is defensive tackle Sione Fua, doubtful with a calf injury.
Fox said he encouraged his players to soak up the moment.
Quarterback Peyton Manning took several photos inside the locker room with various team mates and later posed on the field with Denver's former double Super Bowl-winning quarterback and current chief of football operations, John Elway.
After practice, the players' families were invited onto the field to take pictures and enjoy the day.
"They worked really hard to have this opportunity," Fox said of his players. "Might as well enjoy it."
Players came with cameras and camcorders to capture the atmosphere with safety Mike Adams, a New Jersey native, recording the scene with a video camera mounted on his head.
In keeping with their usual game routine, the Broncos planned to switch hotels Saturday night to sequester themselves from friends and family.
Seattle visited the stadium first on an unseasonably mild morning as a change in weather has lessened concerns about wintry conditions being a factor in the first northern Super Bowl outdoors.
"We're ready to go," Seahawks coach Pete Carroll said. "That's kind of how we are. I don't know if it's loose, but we're where we're supposed to be. This is the exact routine we always do. And the guys did it perfectly today.
"We're physically right and mentally right and we're ready to go."
After their look around the New York Giants' clubhouse they will occupy on Super Sunday, the Seahawks took to the field which was ringed by blue and yellow Super Bowl 48 banners. For about 15 minutes, players walked around on the turf and many took pictures and video of the empty stadium.
The Seahawks, looking loose and energetic, then took a short bus ride across the Meadowlands parking lot to the Giants training facility they have used this week.
They held meetings, went to the field house for their official team picture, which included Seahawks owner Paul Allen, and then held a 35-minute walk-through.
Carroll said he would keep the team's routine exactly as usual for the rest of Saturday, with the Seahawks remaining at the same Jersey City hotel they have been using all week.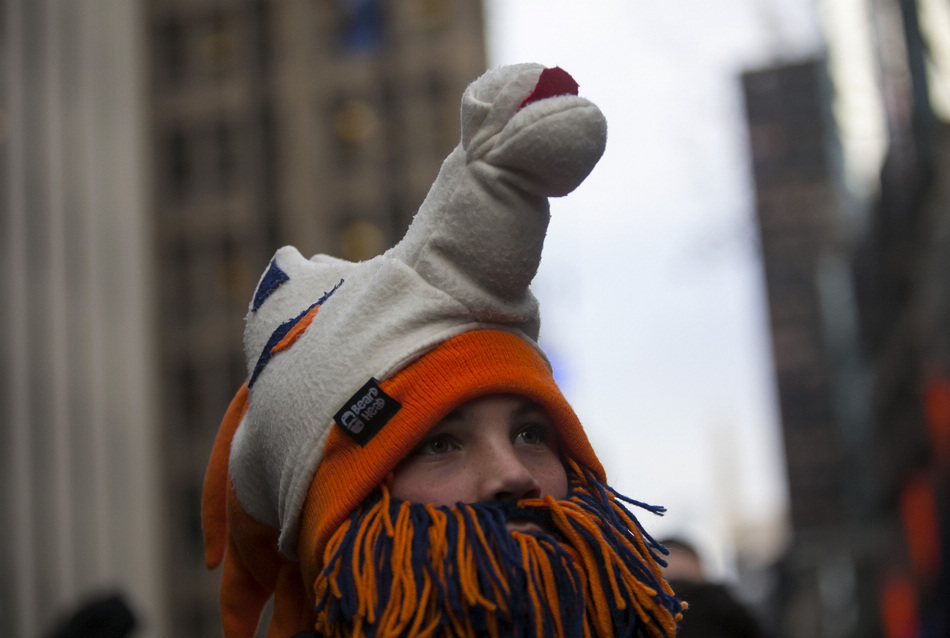 A boy wears a Denver Broncos hat at Times Square, which has been transformed into "Super Bowl Boulevard" ahead of Super Bowl XLVIII, in New York January 31, 2014. As part of festivities, the NFL is sponsoring activities along "Super Bowl Boulevard", located on Broadway between 34th and 47th streets in Manhattan.[Photo/Agencies]