The organizer of the World Dongguan Entrepreneurs Convention, to be held from Sept 7 and 8, has added a capital summit and private equity fund to the upcoming proceedings.
On the first day of the summit, Dr Gong Fangxiong, chairman of China Investment Bank and former managing director of JP Morgan Chase & Co Asia Pacific, will deliver a keynote speech. Gong will address the global macro-economic situation and industrial investment opportunities, according to Mo Haotang, chairman of the World Dongguan Entrepreneurs Federation, which sponsors the biennial convention.
A private equity fund worth of 300 million yuan ($44.92 million) will be launched, jointly initiated by the municipal government of Dongguan, the World Dongguan Entrepreneurs Federation and the Dongguan innovation center of the research institute of Tsinghua University in Shenzhen.
"Both activities are expected to leverage the synergy of the members of the federation and promote the city's integration of finance, science and industrial development," Mo said, adding that the capital summit will become one of the federation's brand activities in the future.
A ceremony commending 13 outstanding Dongguan entrepreneurs will also be a highlight of the convention, Mo said.
Of the entrepreneurs, five are from the mainland, four from Hong Kong, one from Australia, one from Malaysia in addition to two other business people of non-Dongguan-origin.
More than 1,000 people, primarily business tycoons of Dongguan origin in varied industries worldwide, are expected to attend this year's convention.
The convention is sponsored by the World Dongguan Entrepreneurs Federation, which was founded in 2012. The federation has overseas branches in Australia and Canada, as well as domestically in Kashgar, Xinjiang Uygur autonomous region.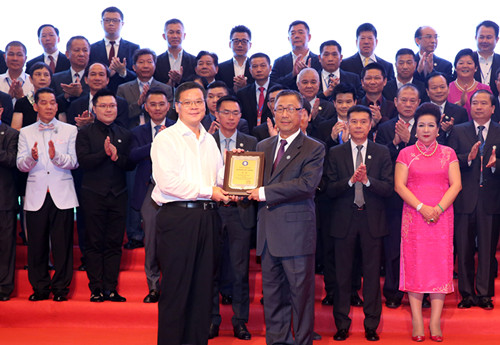 Lyv Yesheng (left), Party chief of Dongguang, presents the award to Yin Hongwei, new chairman of the World Dongguan Entrepreneurs Convention. [Photo provided to chinadaily.com.cn]