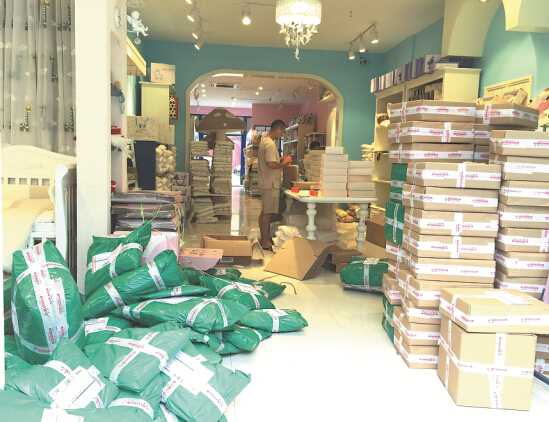 Stacks of home textile products at a shop in Nantong's WeChat supplier market are ready for shipment. DING CONGRONG / CHINA DAILY
Nantong is developing a new home textile wholesale market tailor-made to online business in a bid to give a fresh boost to the city's traditional pillar sector — textiles.
The city in East China's Jiangsu province hosts the Nantong Home Textile Market, one of the largest markets of its kind in the world.
The market in Chuanjiang township covers 2.5 square kilometers and houses more than 5,000 commercial tenants. Surrounding the market are 14 home textile industry parks where more than 1,500 enterprises operate. They form a complete industry chain from raw material supplies to product sales.
However, the slowdown in the Chinese economy since 2014 has placed mounting downward pressure on the home textile industry and therefore trade in Nantong.
To solve the problem, the city government decided to develop a supplier market for home textile dealers on the WeChat platform, the most popular smartphone-based social media in China that has more than 700 million active users.
The WeChat supplier market opened at the Nantong Home Textile Market in November 2015. It has 728 shops for lease and covers 160,000 square meters. These shops were initially built for fabric wholesalers or as warehouses.
To attract more sellers, the market's administrative committee vowed to waive property management fees and announced preferential tax policies.
The city government conducted a series of promotions for the new market in the local media, and since March has displayed its logo on the side of main roads in and around the city.
Now, 236 suppliers run shops in the market, and another 20 suppliers will open shops soon.
Many suppliers are applying to join the market, some of whom are fabric wholesalers and others fabric producers. Some young people have also set up new fabric wholesale businesses in the market because of the government's support.
Sales revenue for the WeChat supplier market had surpassed 1 billion yuan ($154 million) by mid-June.
The output value of Chuanjiang's home textile industry was 25 billion yuan and the market's combined business transaction value reached 50 billion yuan last year.
Products offered at the WeChat supplier market have unique characteristics and vary in designs and features. Thus they can better cater to customers' individual needs, the market's administrative committee said.
The market has more kinds of home textile products than regular markets. Apart from common bedclothes, it also has exclusive shops selling bedclothes for children and infants, cloth household storage boxes, towels and home decorations.
The segment market's products are of higher quality, better design and are priced higher, the committee officials said.
The city government will continue to attract more businesspeople to the segment market, and increase publicity for Nantong's home textile WeChat supplier market, in a bid to further support technological upgrading and innovation of the city's home textile industry.
Contact the writers through dingcongrong@ chinadaily.com.cn