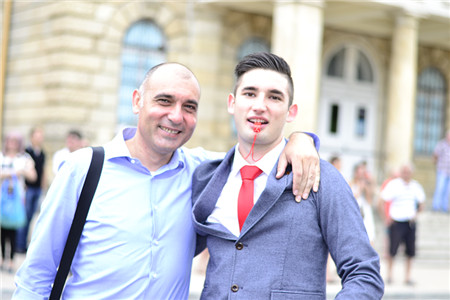 Teo and his father [Photo provided to chinadaily.com.cn]
Teo Parashkevov is a Bulgarian student, who now studies at Southeast University in Nanjing.
About 20 years ago, one Bulgarian student graduated from Southeast University Nanjing. That was my father – Emil Parashkevov, he and some other Bulgarian students got the chance to study abroad, and not just in any country, but in the heart of Asia.
When he came to China, he had to take a language course for one year, something like me now, after that he started his Bachelor in SEU and finished it in 2 years instead of 4, because the Bulgarian government could not pay his tuition for 4 years. After this long journey he came back to his home town and founded a computer service company – this was not very common in Bulgaria in that time, because computers were a type of new technology back then, and no one wanted to risk falling in deep debt, if one didn't succeeded.
However my father succeeded and for 10 years now he is the owner of the leading company in the northern region of Bulgaria for computer services. He said, that one of the things that gave him that much courage to make such a decision, was the life experience he gained during his life in China – the attitude of people towards life, there different way of thinking, and there virtues and honor among themselves. He had the chance to learn about one really ancient civilization and this gave him a big advantage back home.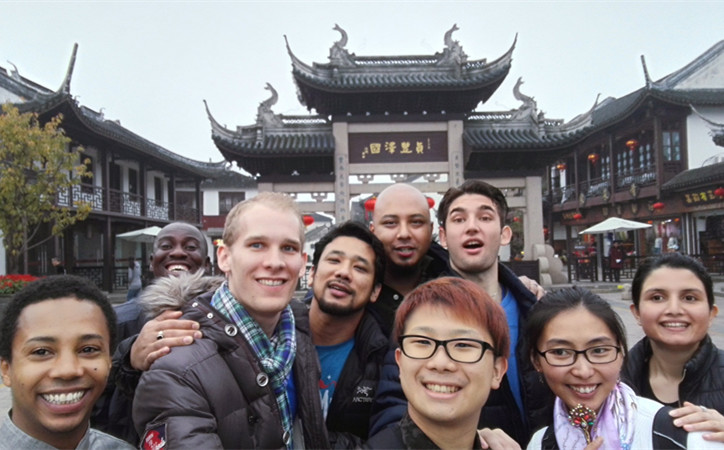 Teo makes lots of friends in the city [Photo/provided to chinadaily.com.cn]
I have been hearing stories about China since I was 12 years old - about the vast beautiful landscapes; about this magnificent civilization, that built the Great Wall; about Confucianism; about this "inner" balance and harmony, that each person had. During the years I was getting more and more inspired by this fact and saw the arguments, for that in the success of my father. After I graduated high-school it was clear to me, that my future is in China, not only because of the poetic stories I heard, but because I wanted to make a legacy for my family.
At the very first minute I stepped out of the airplane in Nanjing I felt a sort of "calmness" going through my mind, I felt that no matter what, everything was possible, however I had to work really hard, in order to prove myself to the Chinese people. I was motivated to go on the footsteps of my father, so I began to study Chinese language. In the beginning, I could not understand anything, especially TONES. I was asking myself "What is this? How to do it? Do these people really speak like this?" With time, effort and a lot of help from my teachers, I started to learn and understand the way Chinese people think. I made a lot of friends and improved my language skills.
Now from time to time when I talk with my father we speak in Chinese and we text each other in HanZi. I strongly believe, that the choice to come to Nanjing, was the best one I ever made.