A delegation of journalists from Chengdu, capital of Sichuan province, visited Hamilton, New Zealand from Dec 15 to 17.
They interviewed Hamilton Mayor Julie Hardaker, New Zealand National Agricultural Fieldays CEO Jon Calder and Waikato Institute of Technology President Mark Flowers, covering a range of exchanges between the cities in agriculture, education, science and technology.
It marked increasing exchanges between Chengdu and New Zealand in the wake of the establishment of the New Zealand consulate general in Chengdu.
Alistair Crozier, the first head of the New Zealand consulate general in Chengdu, announced on Dec 11 a visa application center could be set up at the office next year.
His remarks pleased local residents like Zhou Lin, a middle-aged college teacher who has never been to the Southern Hemisphere.
"Friends whose children study in New Zealand keep telling me it is one of the best places in the world to live. I do want to go there," the travel enthusiast said.
New Zealand Prime Minister John Key opened the new consulate on Nov 12 during his first visit to Sichuan province.
It is New Zealand's fourth consulate in China following Shanghai, Guangzhou and Hong Kong. Its consular district includes Southwest China's Guizhou and Yunnan provinces and Chongqing municipality.
The new Chengdu post means New Zealand now has more diplomatic missions in China than in any other country.
"New Zealand is among the first group of countries in the world to open a diplomatic post in Chengdu. This is a natural continuation of our expanding and increasingly close relationship with China," the prime minister said.
"China is now our largest export market as well as our largest source of imports. Two-way trade with China exceeded $20 billion in May this year, ahead of the 2015 target. Earlier this year, President Xi Jinping and I agreed to set a new and more ambitious annual target of $30 billion by 2020," he said.
The prime minister expressed his wish of deepening understanding between the island country and the province and welcomed more Sichuan people to visit.
New Zealand will continue to cooperate with Sichuan in aviation, agriculture, food and beverage and environmental technology, he said.
Right before inauguration of the New Zealand consulate general, the permanent site of the Australian consulate general in Chengdu was unveiled on Nov 9. It follows the Australian consulate general established in Guangzhou in 1992.
Twelve foreign consular posts have now opened in Chengdu, more than any other city in Central and West China.
West China powerhouse
As an exceptionally large city in the region, Chengdu is at the forefront of West China reforms and opening up.
It is located at the intersection of the Silk Road Economic Belt and 21st Century Maritime Silk Road, two of the country's key national strategies formulated by President Xi Jinping after the 18th National Congress of the Communist Party of China in 2012.
As reported in the Chinese media, the "One Belt and One Road" initiatives will reach 4.4 billion people, 63 percent, or almost two-thirds of the world's population, with a collective GDP of $21 trillion, or 29 percent of the world's GDP.
In October, the Tianfu New Area in Sichuan was promoted to a State-level new zone and became the third such zone in Southwest China. It brings the number of State new zones in West China from four to five.
The Tianfu New Area will change the single-center pattern of cities on the Chengdu Plain which has lasted thousands of years. It will be a driving force behind development of high-end industries in Sichuan, said local officials.
Chengdu is a huge market itself with a population of 17 million. With its influence in neighboring areas, businesses in the city can reach a market of 250 million people.
"By 2013, a total of 26 New Zealand firms had invested more than $63 million in Sichuan," said Sichuan Governor Wei Hong during the opening ceremony for the New Zealand consulate general in Chengdu.
Crozier is optimistic the number will rise and promised to further introduce Sichuan to New Zealand firms and attract investment in West China during his term as the consul general.
In 2010, the Australia and New Zealand Bank (China) Co Ltd was established, making ANZ the first Australian bank to be locally incorporated in the country. In the following year, it opened an operations hub in Chengdu to support its growth in the Asian-Pacific region. In May, an ANZ Chengdu branch opened.
A Fortune 500 firm, ANZ set up a branch in Chengdu because it knows the city has big potential for investment, said an official with the Chengdu Financial Office.
While preparations for the ANZ Chengdu branch were underway, Australia set up its consulate general in Chengdu on July 30, 2013. By then, more than 100 Australian firms had already invested in Sichuan.
"Before I arrived in Chengdu, I talked with Australian government officials and businessmen. I was surprised that most of the conversations ended with 'see you in Chengdu'," said Nancy Gordon, the first Australian consul general in Chengdu.
An increasing number of Australians want to establish business ties in Chengdu in construction, financial services, logistics, manufacturing, food and wine, tourism, education and film, she said.
In February 2013, the direct flight between Chengdu and Melbourne opened, being West China's first direct flight to Melbourne. People in West China no longer have to fly to Australia through Beijing, Shanghai and Guangzhou. Chengdu has opened 78 international air routes, ranking first in Central and West China.
In September 2013, Chengdu started the 72-hour visa-free policy, becoming the fourth domestic city to implement the policy after Bejing, Shanghai and Guangzhou. The policy boosted exchanges between Chengdu and other parts of the world.
In August 2014, Chengdu and Hamilton, New Zealand became sister cities, bringing the number of its foreign sister cities to 24.
Exchanges between Chengdu and Hamilton started in the mid-1990s. Both cities are working to bring the New Zealand National Agricultural Fieldays, the largest agricultural fair in the Southern Hemisphere, to Chengdu.
From Dec 11 to 14, Lan Wo, a wellknown agricultural operation in New Zealand and a Fortune 500 firm, took its patented products - a paddy caulk and plant cell repair agent - to the Chengdu International Urban Modern Agricultural Expo.
In March, Tom Tate, mayor of the city of Gold Coast in Australia, came to Chengdu to negotiate agreements on cooperation in air routes, education and culture. On Oct 21, he returned to sign a letter of intent for establishing sister city ties.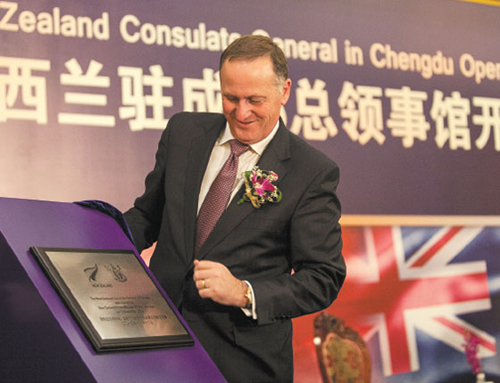 New Zealand Prime Minister John Key opened the new consulate on Nov 12 during a visit to Sichuan province. Huang Shangwen / for China Daily