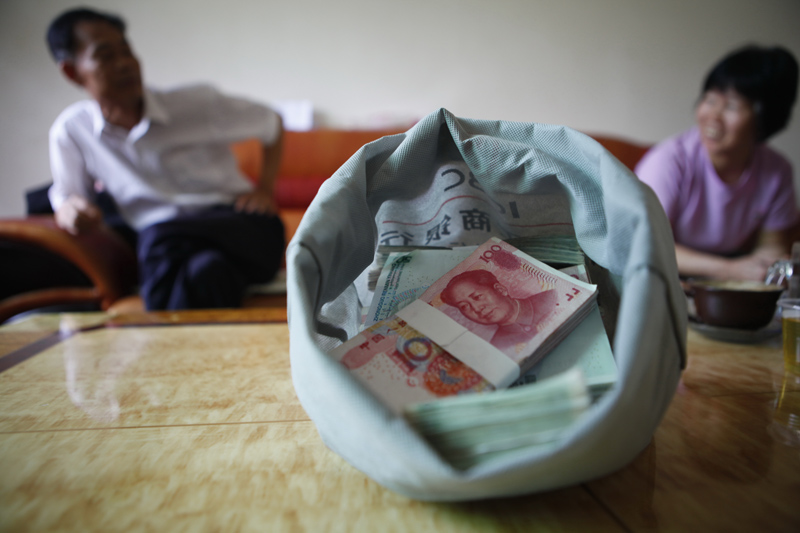 A bag of Chinese currency is pictured in this photo taken on March 26, 2014. A village accountant, surnamed Wang, used his position to get a bribe of 120,000 yuan. He then reported the case to police but didn't get a response.[Photo/icpress.cn]
A village accountant in South China was swamped with trouble when he tried to rectify using his position for personal gain.
The accountant, surnamed Wang, was in charge of finances for the Xiacun village in Huizhou city, South China's Guangdong province. The series of troubles came after he used his position to pocket 120,000 yuan ($19,335).
Back to 2011, a village team head, also surnamed Wang, asked the accountant sign an agreement to sell a plot of land with the collective ownership belonging to the village. The plot actually covers an area of more than 54 mu (3.6 hectares), but the agreement notes the land covers 4.2 mu (0.28 hectares).
Accountant Wang finally made the behind-doors deal and got an illegal "commission" totaling 120,000 yuan in return.
But the conscience soon began gnawing his soul. Wang couldn't sleep or eat anything.
In September, 2013, Wang finally decided to surrender to police and other higher-level departments concerned.
Unexpectedly, his anxieties didn't abate. No departments have lent a hand to handle Wang's case in the past five months, although he never stopped reporting the illegal trade-off to higher supervisors.
The case didn't come into the spotlight until recently when it was exposed by media. Reports say a land and resources bureau began handling the case. An investigation is underway.