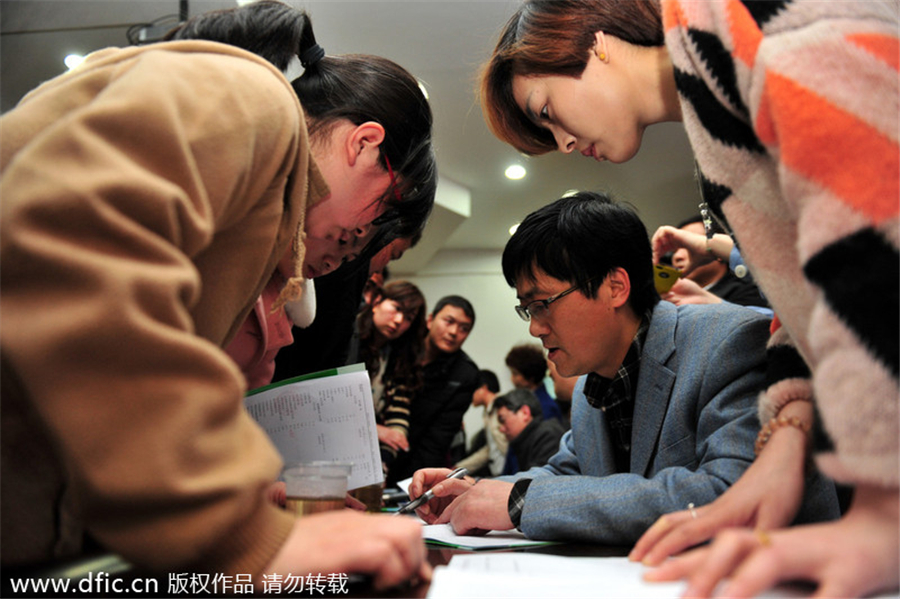 Doctors from Yichang City People's Hospital explain to parents the physical check-up results on 99 children from Xingang Kindergarten, which illegally gave students anti-viral drugs, in Yichang city, Hubei province, March 18, 2014. [Photo/icpress.cn]
Health reports published on the government website of the Central Chinese city of Yichang showed 99 children from a local kindergarten, who were illegally given anti-viral drugs, had no signs their overall health has been jeopardized by the drug.
The city of Hubei province published the physical reports on Wednesday, showing that examinations of the children from the Xingang Kindergarten showed "no common abnormal biochemical indexes or organ dysfunction," indicating that the drugs didn't cause any large-scale harm.
Some children showed abnormalities and needed to be examined, but establishing a link to the drug needs further check-ups, the reports said.
Yichang City People's Hospital made routine blood and urine checks on the 99 youngsters, and checked their liver, renal, gallbladder and cardiac muscle functions. It has offered this free service to all the kindergarten's children since Monday.
On Monday, a parent surnamed Jiang suspected his child, a student at Xingang Kindergarten whose belly had hurt for a period of time, had been given drugs after media reports exposed that two private kindergartens in Shaanxi and Jilin provinces gave children unauthorized prescription medicine that made them sick.
On Tuesday, Yiling district government of Yichang city confirmed that Xingang kindergarten bought and administrated unauthorized prescription anti-viral medicine. The head and deputy head of the kindergarten were put under criminal detention.
Parents also suspect that the kindergarten used poor-quality cooking oil. An investigation of its food safety is underway.