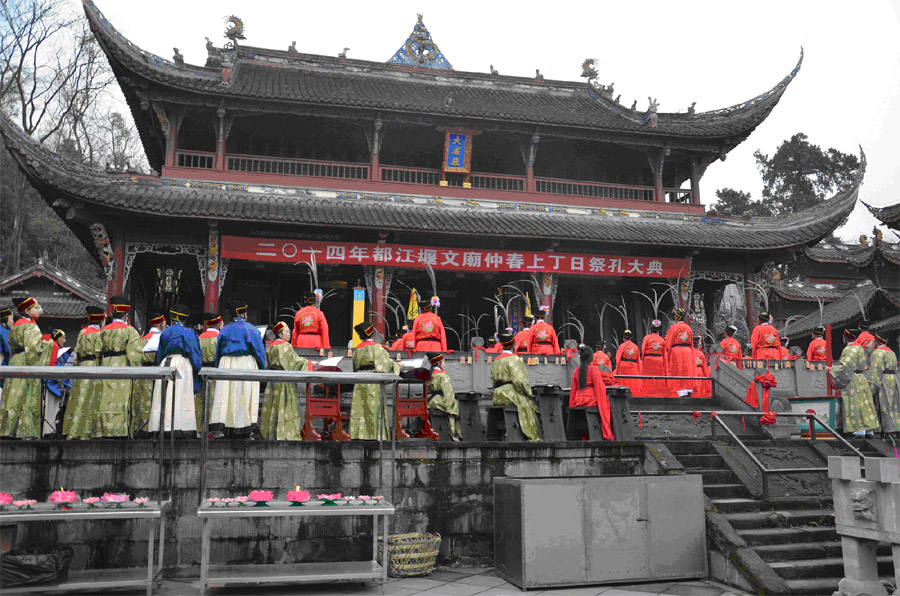 This photo shows participants at a traditional ceremony in honor of Confucius which was held at a Confucian temple in Dujiangyan, Chengdu, on Marchch 7. [Photo by Peng Chao]
Hundreds of people - including scholars, local residents, tourists and students from around the country - attended a traditional ceremony in honor of Confucius at a Confucian temple in Dujiangyan, Chengdu, on Marchch 7.
"The ceremony involved traditional music, songs, dances and rituals, and it was conducted in strict accordance with ancient writings," said Deng Shijian, director of the temple.
He also said that most of the Confucian temples on the Chinese mainland hold this ceremony during the Qingming festival (usually in April) and on the birthday of Confucius on Sept 28, but he added that - according to the ancient writings - the ceremony should be held on the first Ding-day of February and August in the lunar calendar.
This refers to a 10-day week in the Chinese calendar, with the following weekday names: Jia-day, Yi-day, Bin-day, Ding-day, Wu-day, Ji-day, Geng-day, Xin-day, Ren-day, and Gui-day.
The temple has focused on preserving traditional culture since it reopened to the public in May and, in September, it restored the traditional ceremony with the aim of promoting the revival of Confucian culture.
"Our main purpose for holding the ceremony is to tell people that we shouldn't forget traditional culture," said Niu Zecheng, a native of Taiwan and director of the School of Chinese Classics of Dujiangyan.
And a headmaster surnamed Wang, who brought two dozen preschool students to the ceremony, said that it is important to help children increase their understanding of traditional culture, which he called "unpretentious and full of wisdom."