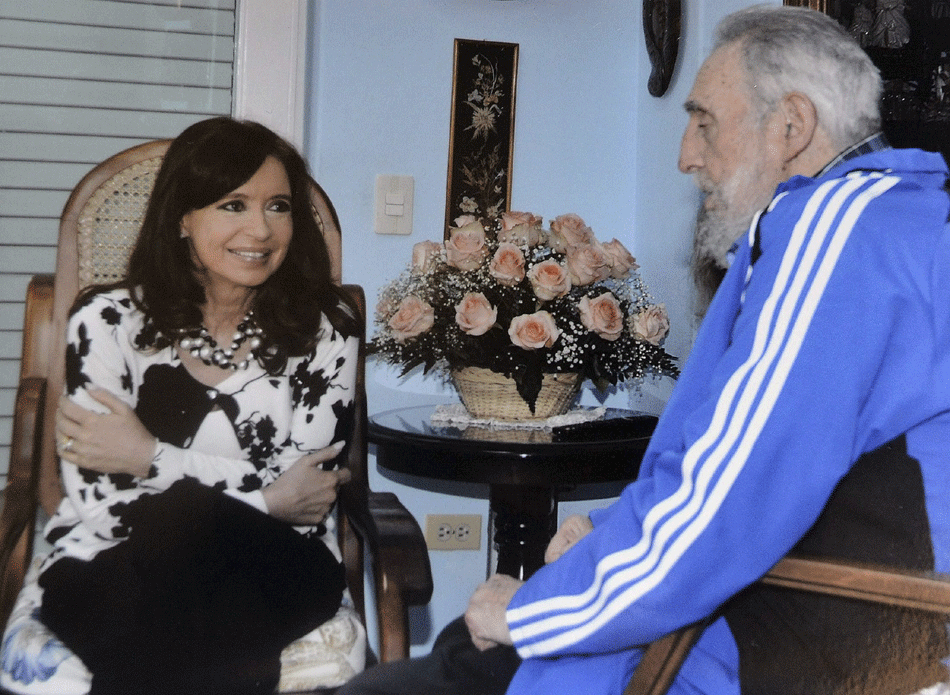 Argentine President Cristina Fernandez de Kirchner (L) meets Cuba's former president Fidel Castro in Havana in this handout courtesy of the Argentine Presidency released on January 27, 2014.Fernandez de Kirchner is in Cuba for the Community of Latin American and Caribbean States (CELAC) summit.[Photo/Agencies]
HAVANA - Latin American and Caribbean leaders converge on Cuba this week to discuss trade, peace and human rights in a further sign of regional eagerness to challenge the dominance of the United States.

The two-day summit is expected to take up issues such as Colombian peace talks, lingering poverty in Haiti and human rights. Thirty-three countries from the region will participate, notably without the United States and Canada, which are not invited.

While the visiting heads of state and government are likely to express solidarity with Cuba and perhaps seek an audience with former Cuban President Fidel Castro, Cuban dissidents who advocate greater human rights on the communist-ruled island will also try to capture attention with so many leaders and journalists present.

At previous international events hosted by Cuba, dissidents attempted to highlight human rights violations and a lack of democracy in the Western Hemisphere's only one-party state.

Government opponents reported over the weekend they were warned by police against attending a "Forum on Democracy" in Havana on Tuesday and that a number of activists had been temporarily detained.

Among those arrested was Jose Ferrer, leader of the Santiago de Cuba-based Patriotic Union of Cuba, one of the most active opposition groups.
Police detained Ferrer on Friday in Havana and released him on Sunday, his group said.

CELAC IS BORN

The Community of Latin American and Caribbean States (CELAC) held its first summit in Chile last year, having been established as a rival to U.S.-dominated forums such as the Organization of American States (OAS) and the Summit of the Americas, both of which meet without Cuba.

At the last Summit of the Americas, in Colombia in 2012, leaders criticized US President Barack Obama for the US economic embargo of Cuba and said there was little point in holding another such summit without Cuba present.

Countries that once acquiesced to the United States in expelling Cuba from the OAS in 1962 reversed course in 2009, voting to reinstate Cuba, which nonetheless has refused to participate in that forum.

"Cuba's national position remains unchanged. We will not return (to the OAS)," Cuban Foreign Minister Bruno Rodriguez told reporters on Friday, calling the organization "an instrument of US domination."

Even so, as a diplomatic courtesy Cuba invited OAS Secretary General Jose Miguel Insulza, who has said he will attend as he did the first CELAC summit last year.

Before the summit officially begins on Tuesday, Cuba and Brazil on Monday will inaugurate a $900 million port project largely funded by the Brazilian development bank BNDES and built by Brazilian construction company Odebrecht.

Brazilian President Dilma Rousseff and Cuban President Raul Castro will participate in the ceremony for the project, the Mariel container terminal, which will include a rail and highway support system and replace Havana as Cuba's most important port.

Once the official summit is under way, Venezuelan President Nicolas Maduro has said he will propose the creation of commission to study decolonization in support of independence for Puerto Rico, a US commonwealth.

Maduro, who succeeded Venezuela's late, anti-US President Hugo Chavez, also supports making Puerto Rico the 34th member of the community, known as CELAC.

The presidents of Peru and Chile may skip the summit because the International Court of Justice in the Hague was due to rule on a decades-old maritime dispute between the two countries.