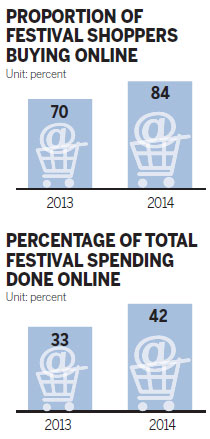 Still busy selecting wine and snacks from the supermarket to prepare for Spring Festival? Then, you are clinging to traditional shopping habits.
A survey by AdMaster, a Beijing company that monitors online advertising, found that 84 percent of respondents said they will do their Spring Festival shopping online, an increase of 14 percent from the same period last year. Their spending budget is also expected to rise by 9 percent.
Many are attracted to online shopping by its wide range of products and competitive pricing.
Adam Li, a 29-year-old company executive working in Beijing, bought a box of liquor online last week, asking for it to be sent to his hometown in Shandong province.
"The online price is about half that in the supermarket and, more importantly, I don't need to travel with a big box on the train," Li said.
The survey found that easy payments and timely deliveries are also major reasons for people to shop online during the peak spending period during Spring Festival, which falls on Jan 31 this year.
Zhu Yeli, a human resources manager who will remain in Beijing for the Spring Festival, said she bought four bags of rice and two bottles of cooking oil online as gifts for her parents in Ningbo, Zhejiang province.
"My parents are in their 70s. It is too hard for them to buy these things from the supermarket, plus they don't know how to shop online, so I did it for them," Zhu said.
The survey found that the peak time for Lunar New Year shopping started later than usual this year, with nearly half of people saying they started their purchases only one week before the holiday.
It also found that most courier companies will start their Spring Festival break earlier this year, placing them under added distribution pressure.
"Sound logistic arrangements really matter," said Chen Le, general manager of AdMaster's Shanghai branch.
"E-commerce companies should prepare their brand marketing and sales promotion strategy in advance to encourage customers to do their Lunar New Year shopping ahead of time to relieve the pressure."
Apart from small items and clothing, home electrical appliances, mobile and digital products are some of the major New Year purchases for shoppers' personal use, the survey found, with wine and health products traditional selections for gifts.
Fresh fruit and vegetables are expected to see the highest e-commerce growth for Spring Festival, followed by health products, home appliances, electrical appliances, digital products, jewelry and luxury products.