One of China's most tennis-loving municipalities is to jump onto the world-class bandwagon with an inaugural Women's Tennis Association (WTA) event in October.
Despite losing the bid for 2014-18 WTA Championships hosting to Singapore in May, Tianjin was reimbursed with its first-ever WTA tournament half a year later.
The Tianjin Open will kick off on Oct 6, right after the China Open. Thirty-two players from across the world will battle for 280 points and a $250,000 prize during the seven-day event.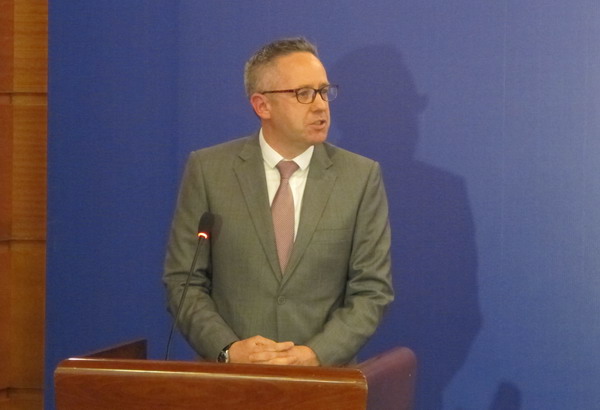 Ryan Sandilands, CEO of WTA's Asia-Pacific region speaks during a press conference for the Tianjin Open in Tianjin, Jan 24. [Photo by Yan Weijue/chinadaily.com.cn]
The decision to relocate a WTA tournament from Europe to Tianjin came without much difficulty, as the northern Chinese port city had impressed the WTA investigators during the bidding for the Championships, with its top-tier facilities as well as its profound tennis heritage, according to Ryan Sandilands, CEO of WTA's Asia-Pacific region.
The tournament will be held at the 60,000-square-meter Tianjin International Tennis Center, which has a main venue seating capacity of nearly 3,500 people, 12 outdoor courts, four indoor courts, eight practice courts and a sports club with strong support infrastructure.
Besides Tianjin, another six Chinese cities - Wuhan, Hong Kong, Nanchang, Suzhou, Ningbo and Chinese Taipei - will have their WTA coming-out parties this year, making it a record 10 WTA events in China. In comparison, there were only two during the 2012 season.
The overwhelming expansion of the sport is no surprise to Sandilands, who attributed the growth to Chinese tennis authorities' campaigning efforts and the flourishing of Chinese tennis players led by Li Na.
"I wouldn't say it is too fast. China's been a central part of WTA's global strategy. It is specific since 2008 when they opened an office (in Beijing). We made a commitment in 2008 to work with partners to growing tennis in this country and we are making good on that commitment. So we have set the right words and now we are following up with right actions," said the Scot.
"(The success of Li Na) is huge (for WTA's growth in China). But it is not just her. I think the Chinese Tennis Association has been working very hard for years to give the facilities to players, to land the game. You developed a few of good players coming out of Tianjin as well. I really feel we are entering a very kind of special golden age for women's tennis in China," he added.
Sandilands was evidently well prepared at Friday's press conference for the Tianjin Open, as he reeled off the names of Peng Shuai, Zhang Shuai, Duan Yingying, Zheng Saisai and Xu Yifan, who all received professional training in Tianjin. They are also likely to show up in Tianjin's WTA debut in October, according to the organizers of the event.
The Tianjin Open also pledged to lure more top international players to respond to challenges from Osaka and Linz, which will stage WTA tournaments in the same week.
"The main thing we are going to promote is the whole swing in China. We'll start off Guangzhou (Week 38). We'll go to Wuhan (Week 39), Beijing (Week 40) and Tianjin (Week 41). So hopefully what we are trying to do is to get the players to come and play all four weeks in China, or two weeks in China and stay in China and not going out," said Tony Cho, supervisor of the event.
"Tianjin International Tennis Center has a permanent stadium to sit 3,400 people. Most tournaments do not have a permanent stadium. So we actually have a bigger advantage. Hopefully I will sell that to players to come and play in Tianjin."
Tianjin Open will strive to get one of WTA's top 10 players to compete, and the top eight seeds should be ranked within the top 30 in the world in accordance of WTA rules, said Cho.