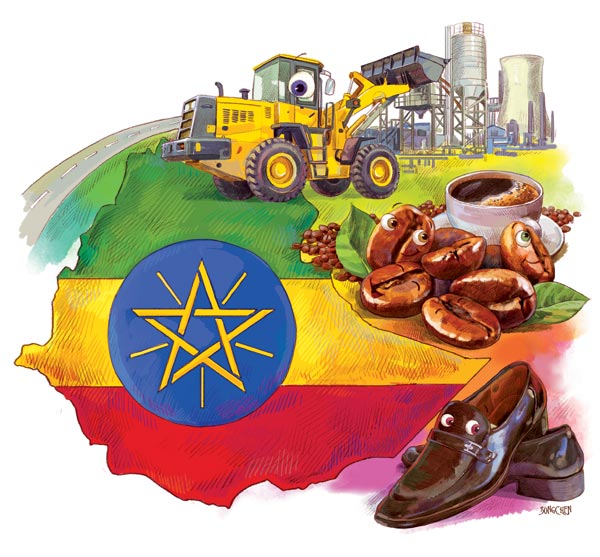 Ethiopia trying to become center for manufacturing in Africa on the back of Chinese investment, report Andrew Moody and Wang Chao
Modern and brightly lit with all the staff in neat uniforms, it could be a state-of-the-art manufacturing facility in Shenzhen or Guangzhou.
The Huajian shoemaking factory is not in China, however, but about 30 kilometers from the center of Addis Ababa.
Even its location is something of a disguise. There is nothing much African about the Eastern Industry Zone in that in appearance it could be any one of thousands of industrial parks around China.
Huajian, which employs 3,000 local workers, however, could have a significance way beyond just being a single factory.
It could ultimately be the start of a chain of investments that revolutionizes the economy of Africa's most significant economy on the Horn of Africa.
Chinese investment is at the vanguard of the Ethiopian government's attempts to move away from being an agriculture-dependent economy to one in which manufacturing plays a more dominant role.
Agriculture now accounts for around 43 percent of GDP with manufacturing making up just 4 percent.
If this transformation is successful it could prove to be something of a role model for the rest of Africa, which is largely seen by major multinationals as a less desirable location for manufacturing investment than Bangladesh, India, Vietnam, Cambodia or even China itself.
This engagement with Ethiopia is also different to the stereotype of one centered around China buying up African resources.
Although the country does have potentially large reserves, including iron ore and gas, they have gone largely untapped so far.
If there was any doubt that manufacturing jobs were needed in Ethiopia, where youth unemployment of 50 percent is one of the highest in the world, this might have been removed by the fact that 4,000 turned up for 100 jobs when Huajian began recruiting in 2012.
So successful has the plant been that Huajian Group, which has China bases in Dongguan in Guangdong and Ganzhou in Jiangxi, is planning a $2.5 billion investment with the China-Africa Development Fund to create a huge footwear manufacturing base that will create 100,000 jobs within five years and export up to $4 billion of shoes every year.
Helen Hai, former vice-president and chief executive officer of Huajian's overseas investment operation, who helped set up the factory, says that what is not widely understood is that China, being the manufacturing workshop of the world for 20 years now, has a real comparative advantage in this area.
She says many in the West might view China's manufacturing as being in decline because of higher labor costs but in reality companies can now leverage their expertise in areas such as Africa.
"This advantage in manufacturing has already shifted from the West to China. The West doesn't really have it anymore with this type of operation. What we are doing is combining Chinese know-how with competitive labor," she says.
Hai, 35, also a former UK-based actuary with a management degree from INSEAD, actually ran the production line from the shopfloor when the operation first started and says that many Western firms lack this manufacturing competence.
The company makes shoes for leading brands such as Coach, Clarks and Guess.
Labor is just 2 percent of production costs compared with 22 percent in China, but logistics cost quadruple from 2 to 8 percent. "Logistics is the one big problem of doing anything in Africa," she says.
This lack of infrastructure is something the Chinese have also made a significant contribution to remedying over the past decade.
China Communications Construction Co, one of China's largest State-owned companies, has built many highways in Addis Ababa, including the $100 million ring road project, which was completed in 2004.
Another project is the $612 million, 80 km road between the capital and the city of Adama, which is set to be completed ahead of schedule.
It will also work on the recently announced $250 million expansion of Bole International Airport in Addis Ababa, giving it extra capacity and a new VIP terminal. This will be funded by a loan from China Exim Bank.