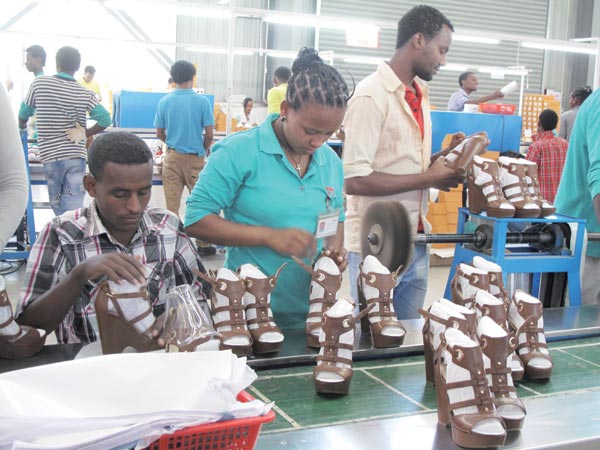 The Huajian shoe factory employs 3,000 local workers in Ethiopia. Wang Chao / China Daily
China's deepening relationship with Africa is also symbolized by the gleaming new African Union headquarters, which cost $124 million and was "gifted to the African people" by the Chinese government.
The growing relationship is that of trade between China and Ethiopia, which has risen more than 25 times over the past decade to $1.8 billion in 2012. It is forecast to rise to $3 billion by 2015.
Ethiopia's exports to China, including one of its principal exports - sesame seeds - make up just $300 million with Chinese exports to Ethiopia contributing $1.5 billion.
This growing trade was evidenced in December when more than 150 Chinese companies exhibited at the 2013 (Africa) China Commodities, Technology & Service Expo at the Millennium Hall in Addis Ababa, which was seen as a landmark event.
Wang Yi, China's foreign minister, said on a visit to Addis Ababa earlier this month that he would like to deepen the trade relationship, particularly with agricultural products and textiles.
"Many Chinese textile and agricultural products companies are looking to expand their businesses overseas, and Africa is their best destination. I hope Chinese companies can help Africa to accelerate its industrialization process," he said.
This accords with the Ethiopian government's plan to increase employment in its domestic textile industry tenfold to 500,000 within the next two years.
Qin Jian, deputy head of mission at the Chinese embassy in Addis Ababa, says China has advantages over Western countries when trading with Ethiopia, particularly in such areas as lower-cost machinery and heavy engineering.
Qin, who was speaking at the ambassador's residence in a leafy area of the city, believes that China has played a key role in Ethiopia's development.
"Chinese companies are really familiar to people here. They have played a large part in developing infrastructure, which Ethiopians see as ensuring their well-being and sustainable long-term development."
He believes the China-Ethiopia relationship gives the lie to accusations in the West that China only wants to grab Africa's resources and become a new colonial power.
"Nowadays the Western media tries to demonize China-Africa relations and only report the bad side such as supposed violations of natural resources. Ethiopia is a non-natural resource country but we have large-scale investment," he says.
Over at the sprawling campus of the University of Addis Ababa, one of Africa's leading academic institutions, Alemayehu Geda, a professor of economics, says there are a number of reasons why China sees Ethiopia as an important economic and political partner.
"It is a huge potential market for a start. It has a population of more than 80 million, making it the second most populous country in Africa.
"The country has always been politically active across the continent, even before the African Union was based in the city. If you have good relations with the Ethiopian leadership you can network the rest of the country."
Geda also says that Ethiopia is increasingly acting as a shop window for Chinese infrastructure expertise.
"Because of the African Union, there are a lot of political visitors. They can see things such as the electric rail that is being built and they might think to themselves that they would like one of those in their own country," he adds.
Fana Gabresenbet, a lecturer at the Institute for Peace and Security Studies, also at Addis Ababa University, says most Ethiopians connect with China through things that affect their lives.
"The average person relates to China in terms of clothing, kitchenware, cellphones and other consumer goods that China is exporting. With infrastructure, their evaluation might be positive in terms of getting the job done quickly," he says.
"I am not sure that China does too well with their soft power. The state media here reports about all the big infrastructure projects and meetings with ministers but the private media contains a lot of criticism, particularly in relation to roads that are supposed to last 20 years showing wear after a few years."
Gabresenbet, who was speaking over coffee in the lobby of the Intercontinental Hotel, one of the city's five-star hotels that contrast sharply with the poverty on the streets outside, dismisses the idea that China is acting as a colonial power in Ethiopia or Africa but he says it does have interests.
"We don't have oil and valuable natural resources so you can't blame China for these things in Ethiopia but I would say Ethiopia is an important country to have relations with since by extension you have the potential for influencing the political process in Sudan, where China has big natural resource interests."
For many Ethiopians what China can bring in terms of jobs is paramount. Eastern Steel, which makes spiral steel and other steel products, is one of the latest Chinese companies to set up operations in the country.
It began operations in October at an 8,500 square meter factory at the Eastern Industry Zone.
With a capacity of 300,000 tons a year, it will be Ethiopia's biggest steel company.