Sewing machine producer is eschewing the hard sell to build up business in Africa, reports Wang Chao
Ruan Xiaoming has always known clearly what he wants. Born into a poor family, he at first just wanted enough to eat.
Later, he went to school, hoping that eventually he'd attend a university, but poverty ended that dream, and he dropped out of secondary school.
Twenty years on, Ruan's ambitions are undiminished, even if they are a lot less close to home. He'd like to play a role in clothing people all over Africa.
Ruan is chairman of Zhejiang Gemsy Sewing Machine Co Ltd, one of the nation's top 500 private businesses by sales.
It's based in Taizhou, Zhejiang province, home to many successful entrepreneurs. It was among the first cities in China exposed to overseas trade after reform and opening up began in the late 1970s.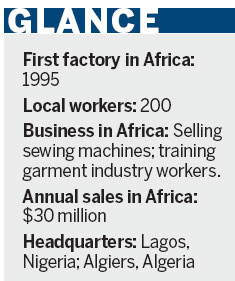 Besides sewing and cutting machines, Gemsy makes lightweight wheel hubs. It has established companies in 29 countries and appointed agents in another 30, and its products are sold in more than 100 countries.
Ruan's work has taken him to more than 70 countries, 27 in Africa alone. He got a rude welcome to the continent when he first went there 20 years ago: In Nigeria, he was robbed at gunpoint and escaped with his life only after handing over $20,000.
In most African countries, the company's business has risen fivefold in the past year or two. Sales in Africa accounted for 10 percent of the company's overseas sales last year, Ruan said, and that will probably rise to 30 percent within three years.
Gemsy has a branch in Algeria, and offices in Tanzania, Ghana, Nigeria and South Africa.
"Labor-intensive industries such as garment production are developing so rapidly in Africa," Ruan said. That's because many Western countries don't impose import duties on shoes and textile products made in Africa.
The most active areas for his industry, he said, are in western and northern Africa, where cotton is an important local product.
Ruan got a cool reception when he first visited machine dealers in Lagos years ago, only to find that Chinese brands were barely known. So he offered a dealer 200 machines and said he'd wait until sales picked up before taking payment. Within a year, he'd sold 25,000 machines in Africa.
Rather than selling door-to-door, the company forms relationships with governments and other organizations to offer free training to people in making clothes, and maintaining and repairing machines.
"We offer training so women can find work and young people can start their own businesses. So governments welcome us, and unemployed people like us even more," he said.
In Algeria, the company works with local schools to train people. The government buys machines from Gemsy and funds the training. The graduates receive a certificate and a subsidy to start their own business.
"Geared with good skills after our training, the labor-intensive industry will develop faster in Africa and bring more business opportunities for us," Ruan said. "If they use a brand (of machinery) during their training, they will tend to use the same one when they start their own business, so we implant the brand name into their mind right from the start."
When more people run their own businesses, society will be much more stable and living standards will rise, he said. "That's what the government wants, too."
Some Western brands, including from Germany and Japan, are available in Africa, but they operate through dealers and don't offer large-scale training programs, he said.