Twenty-one coal miners were confirmed dead after a gas explosion on Friday morning in the Xinjiang Uygur autonomous region, the region's emergency response office said.
The blast occurred at about 1:26 am as 34 miners worked underground at the Baiyanggou coal mine in the Changji Hui autonomous prefecture, the local government said.
Twelve miners managed to escape immediately after the explosion, but the rest were trapped underground. On Friday afternoon, rescuers pulled one worker out of the rubble.
During rescue efforts, temperatures dropped to -5 C, China News Service reported.
Immediately after the explosion, a team entered the mineshaft on Friday morning to ascertain conditions before launching a rescue operation, the report said. Later that afternoon, China Central Television reported that a rescue team was about 300 meters away from where the miners were trapped. The one miner was then rescued.
The rescued worker was in a coma when he was found underground, and he has been sent to the hospital for further medical treatment.
The State Administration of Work Safety said on Friday that the coal mine was once shut down in June because of safety problems.
The coal mine illegally restarted production before the problems were rectified, and that led to the accident, the administration said in a statement.
The administration required coal mines nationwide to enhance safety rules and prohibit illegal production.
The Baiyanggou mine has an annual output of 90,000 tons, and it has been in production since August 2007, China News Service reported.
On Dec 6, Premier Li Keqiang ordered intensified efforts to improve work safety standards following a deadly explosion last month in Shandong province that left 62 dead.
He urged a careful review of a nationwide work-safety overhaul this year to learn from deadly accidents.
"Production safety is a life-and-death matter and a red line that must not be crossed," Li said in a written statement as a work safety committee of the State Council, China's Cabinet, held a plenary session in Beijing.
The country should emphasize the prevention of accidents, regularly conduct safety inspections and move to establish a permanent mechanism for ensuring work safety, Li said.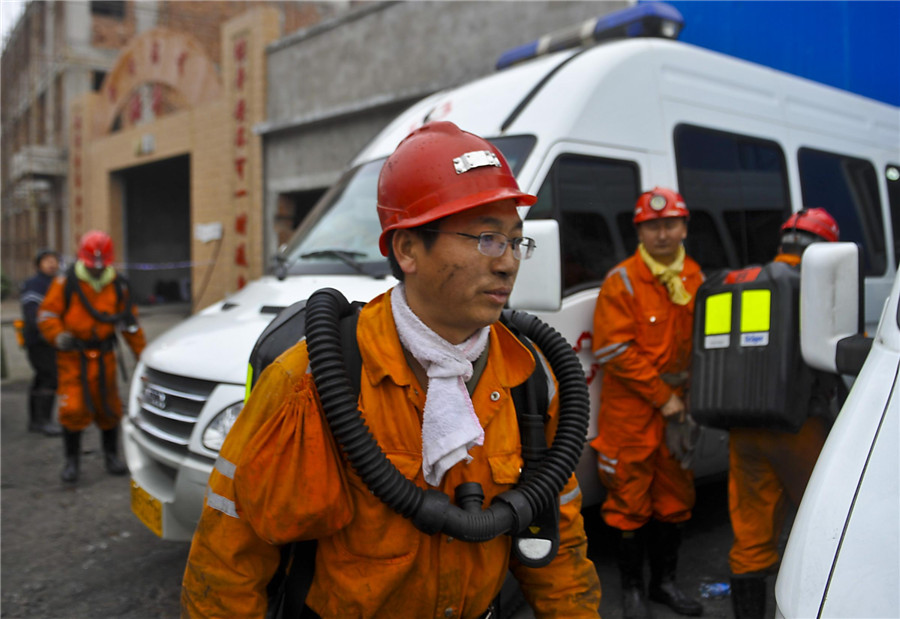 Rescuers are seen at a gas explosion accident site at the Yangjiagou coal mine in Hutubi county of Northwest China's Xinjiang Uygur autonomous region, Dec 13, 2013. The explosion occurred at 1:26 am when 34 miners were working underground. Twelve workers managed to escape themselves. Among the trapped twenty two workers, twenty one were confirmed dead, said the region's emergency response office. [Photo/Xinhua]