Trump ought to know a deal must be honored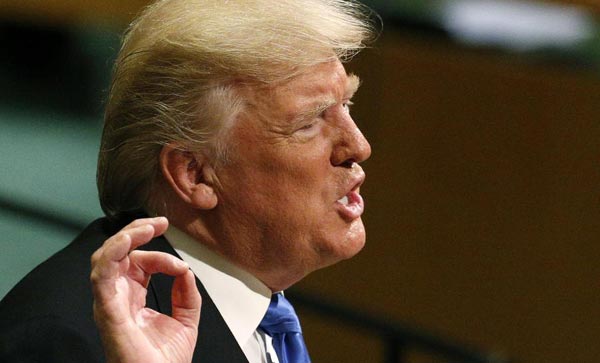 US President Donald Trump addresses the 72nd United Nations General Assembly at UN headquarters in New York, US, Sept 19, 2017. [Photo/Agencies]
In his United Nations General Assembly speech on Tuesday, United States President Donald Trump called the Iran nuclear deal "one of the worst" agreements ever reached by Washington and "an embarrassment" to his country. "We cannot abide by an agreement if it provides cover for the eventual construction of a nuclear program," he said, renewing speculation that he may soon seek to withdraw the US from the deal.
Yet, since it was signed, Iran has been "in technical compliance" with the agreement, as confirmed by the reports of the International Atomic Energy Agency, the UN's nuclear watchdog.
Pulling the US out of the deal would not only erode the credibility of the US. It would also deal a heavy blow to the international nuclear non-proliferation drive, and set a bad precedent that would surely hamper the ongoing multinational efforts at finding a peaceful solution to the Korean Peninsula nuclear deadlock through negotiations.
The 2015 accord to halt Iran's alleged pursuit of nuclear weapons is not a "one-sided transaction" as Trump claims. It was reached between Iran and a group of nations comprising Britain, France, Germany, Russia, China and the US after nearly two years of talks.
The deal they agreed drastically limits Iran's uranium stockpile and research and development and places the country's nuclear sites under UN inspection in return for the lifting of many US and European sanctions.
One of Trump's arguments is the "sunset clause" in the deal would see Iran resume some enrichment from 2025. But he forgets that diplomacy is an art that involves give and take, and the deal is a bargain that could not have been struck with a win-it-all mindset.
Trump may regard the deal as bad. He may harbor personal animosity toward Teheran. But his personal feelings are no reason for him to end the deal that was painstakingly worked out over the negotiation table.
If Washington dumped the deal that is "delivering" on its aims, it would be more than an embarrassment for his country; it would exacerbate Iran's misgivings about the US, send a signal to the Democratic People's Republic of Korea that even if it was willing to talk, the US could not be trusted to honor any deal that was reached, and belie the US' self-touted commitment to a rule-based international order.
In his speech, Trump called on all nations to respect the rights of other nations. He should put those words into practice. Other nations have the right to expect the US to honor the agreements it has made. As US president, Trump should respect that right.