Raise pay to bring down corruption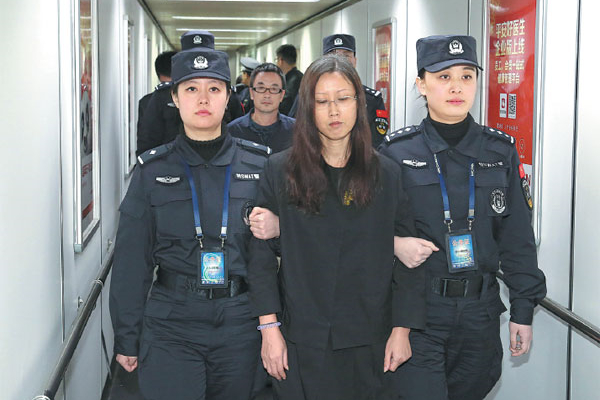 Zhang Qingzhao, who featured on an Interpol list of China's 100 most-wanted fugitives was repatriated from the Caribbean state of Saint Vincent and the Grenadines on Feb 6, 2016. [Photo/Xinhua]
Corruption and the abuse of public office for private gain are like a parasitic disease. The parasite lives off its host, often weakening it and sometimes killing it. Corruption invariably weakens societies, sometimes so much so that the society succumbs. It is no wonder that President Xi Jinping has made fighting corruption to catch both "tigers and flies" one of his signature campaigns on a par with the Belt and Road Initiative and achieving the Chinese Dream."
Virtually no nation is immune from corruption. Imperial China, with its long history, was certainly no stranger to it. You could argue that corruption is finally what did in imperial China in the early 20th century.
New China has had its share of corruption as well. New leaders did conduct anti-corruption drives but you can say looking back that these short-term efforts were more symbolic than serious.
Experts expected that the current anti-corruption drive would be another flash-in-the-pan inconclusive symbolic effort. Of course, it's been anything but five years on continuing to net tigers and flies with no sign of abating.
Theoretically, fighting corruption is a simple equation. Pay cadres enough to guarantee a reasonable standard of living while at the same time making the punishment so severe that cadres will be deterred from temptation. Academics and policy makers can create charts and the line where both variables cross is the sweet spot. But that the ideal world, not the real one in which we live. As Shakespeare wrote in Julius Caesar "the fault, dear Brutus is not in our stars, but in ourselves". In other words human nature trumps logic or reason. Even faced with the ultimate deterrence, a death sentence, some will take the chance of "self service" rather than "serve the people".
More can be done however. I firmly believe that as in Singapore's much touted model, public servant salaries should be relatively high, as should be the penalties for committing corruption. In one study experts Rijckeghem and Weder found that corruption drops dramatically if public servants earn three to seven times the wage paid to workers in the manufacturing sector. Singapore's ratio was about 3.5. The study found that even an increase from one to two produced a significant drop in corruption. In China, including recent increases in cadres pay, the ratio was significantly less.
Raising cadres pay will take money-lots of it. But given the enormity of past corruption, the net effect is that more money will be left over for education, healthcare and other safety net items if the scourge of corruption is substantially eliminated.
The enforcement/deterrence side has already made great strides. As dramatized in the wildly popular TV series "In the name of the people", the body responsible for investigating corruption, the Central Commission for Discipline, has been active since 2012. From talking to one provincial official who participated in institutional inspections, I have been told that these are tough, professional and laser-focused.
Political scientist Andrew Weideman of Georgia State University counts 146 tigers who have been disciplined or who are under investigation. Professor Weideman says the number of flies investigated is about one million, with a quarter of them indicted and disciplined.
Another successful and dramatic effort is progress in finding and returning suspected high-level fraudsters who fled overseas on the list of China's one hundred "most wanted" published in April 2015.To date 46 have been returned.
While the war on corruption is a long-term battle, these efforts are paying off. China has improved four places on Transparency International's latest Corruption Perception Index (CPI) ranking to 79th of 176 countries and territories surveyed in a year when more countries declined than improved.
Perhaps parasitic corruption can never be eliminated entirely but it can be minimized. I believe that this noble effort is a pre-condition of achieving the Chinese Dream and building a more prosperous society and rejuvenating the Chinese nation to its former glory.
Dr. Harvey Dzodin is a non-resident researcher of the Center for China and Globalization. He was vice president of the ABC TV Network in New York and Legal Counsel in the Jimmy Carter administration.