NRA is a Vegas shooting accomplice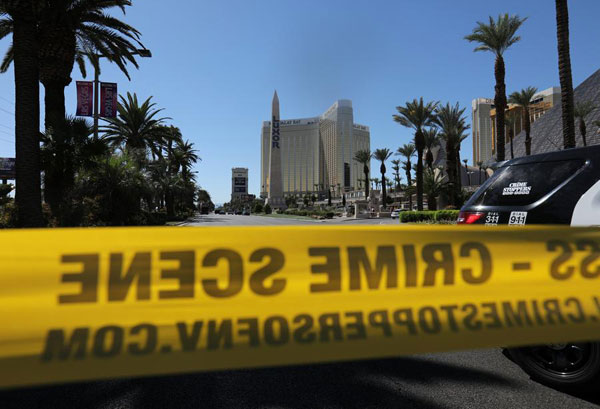 Police crime scene tape marks a perimeter outside the Luxor Las Vegas hotel and the Mandalay Bay Resort and Casino, following a mass shooting at the Route 91 Festival in Las Vegas, Nevada, US, October 2, 2017. [Photo/Agencies]
The nine-minute shooting spree in Las Vegas was nauseating, a maelstrom of carnage, lives lost and physical and mental injuries that will haunt the victims for the rest of their lives. Sadly, such an event was completely predictable, given the abundance of guns in America and a lack of gun control legislation. The shooter, Stephen Paddock, had two groups as accomplices: the National Rifle Association gun lobby, and the best legislators and politicians special interest money can buy.
Sadly, no end is in sight. A mass shooting is an incident of gun violence with four or more victims, excluding the shooter. I always thought One–a-Day was a famous vitamin brand, but no, it's the frequency of US mass shooting incidents. Las Vegas was the eleventh mass shooting that week, the third of that weekend and the twenty-ninth since Sept 2. It seems as though many Americans have a fierce individualist streak born in the heat of our Revolutionary War, as exemplified by New Hampshire's state motto: "Live free or die." And with the increased political polarization culminating in Donald Trump's election, this trend has accelerated.
The NRA began in the 19th century as a gun safety organization, but in the 1970s, with the rise of conservative Republicans, morphed into a gun rights lobby. Using finely honed carrot-and-stick approaches, the NRA is so powerful it strikes fear into the heart of any public official who dares oppose it. The NRA has two major tools: a huge treasury to shower compliant officials with campaign contributions, and a well-publicized report card grading how officials voted on key NRA issues. Even if you vehemently disagree with their position — as I do — you have to admire their lean, mean take-no-prisoners model that in 40 years has made them into a lethal career-killing machine to those who oppose them.
Aside from killing virtually every meaningful gun safety law, the NRA's most game-changing accomplishment was to get the United States Supreme Court in 2008 to overturn two centuries of constitutional law. The court ruled that the Second Amendment guaranteeing the right to bear arms applied not only to governments, but to individuals.
Gun-related deaths have reached epic, epidemic proportions. The number of Americans killed by gun violence intentionally, accidentally or by suicide since 1968 is greater than all combat deaths from the Revolutionary War to the present. This includes an estimated 750,000 deaths in the Civil War, 405,399 in World War II, 116,516 in World War I and 58,220 in Vietnam.
The Washington Post has estimated there are more guns in the US than there are people. That's 357,000,000 guns, including half a million machine guns. Yes, it is perfectly legal to own machine guns manufactured prior to 1986. In a rare loss, the NRA was defeated that year, after attempting to make the sale and possession of all machine guns legal. They are pushing for a quick vote on this issue and on making suppressors legal, and think this time they will have Trump's support. They may be right, as contributions to the NRA and gun sales ironically skyrocket after a big mass shooting incident. Case in point: After the bloodbath in Connecticut's Sandy Hook Elementary in December of 2012, resulting in the deaths of 20 children and six adults, contributions to the NRA's political arm increased 350%, accompanied by a spike in the sale of weapons.
You'd think mass shooting incidents would affect these people, but they adhere to the same cold-blooded tactics. When an incident happens, they disappear for a time to let emotions cool. Then they say that a time-consuming investigation is needed, by which time the horror has been long gone from public view. In the meanwhile, they get their cronies to offer prayers to the victims, or as Trump did, offer "warmest condolences". Accomplice and NRA contribution recipient Senate Majority Leader Mitch McConnell is typical. He said the shooting was a "moment for national mourning and for prayer" but went on to slavishly follow the NRA playbook by saying that the investigation has not even been completed, therefore "it's premature to be discussing legislative solutions, if there are any." Notice the foreboding last phrase.
This devastating attack that resulted in 59 deaths and more than 500 injuries has produced one ironic local example to show just how absurd the NRA's extreme position is. When street performers dressed as Stormtroopers from Star Wars were panicking crowds in Clark County, which includes Las Vegas, the county was able to pass an ordinance prohibiting the open carry of toy guns. Thanks to the NRA, they would never have been able to do the same with the real thing.
Harvey Dzodin is a research fellow at the Center for China and Globalization.