By looking east Merkel can help secure her political legacy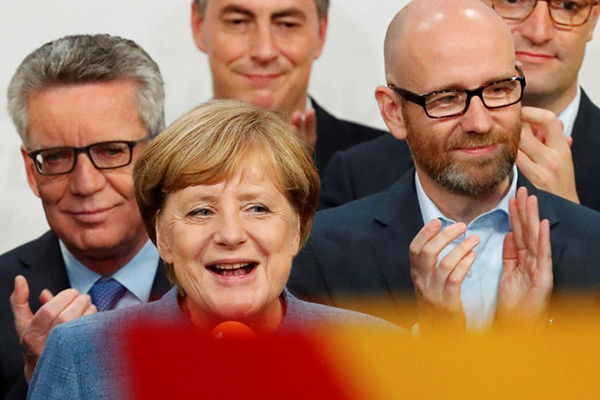 Christian Democratic Union CDU party leader and German Chancellor Angela Merkel reacts after winning the German general election (Bundestagswahl) in Berlin, Germany, September 24, 2017. [Photo/Agencies]
On Sunday, Angela Merkel's Christian Democratic Union and its Bavarian counterpart the Christian Social Union won a small majority in the German election, meaning she will be chancellor for a fourth term and remain in office until 2021.
Coincidentally, 2021 is a milestone for the Communist Party of China, as that year it will celebrate the 100th anniversary of its founding, and this is when China is to have built itself into a moderately prosperous society, with its GDP and per-capita income being double 2010 levels.
The year and that goal can also serve as a timely reference for Merkel to think about what her political legacy will be. Merkel has already outlasted other Western leaders. She has worked with four French presidents since she first became chancellor in 2005.
And they have been turbulent years, with some even saying that the West experienced a "lost decade" because of the financial and debt crises that originated in the United States and the prolonged economic woes that stemmed from them. In recent years, the rise of right wing parties, terrorism and immigration have also been grave challenges for Western leaders.
Simply put, the West has suffered from both economic and political upheavals during the past decade.
Fortunately, Europe has basically survived its lost decade and now seems to be emerging from it. Its economy is on a growth track, and this year, the elections in the Netherlands, France, the United Kingdom and Germany have managed to avoid any rise to power of the far right, although the political landscape has changed rapidly.
For example, the far-right party National Front in France and the nationalist party AfD in Germany both showed they have strong support.
But Merkel, a physicist-turned-politician, has showcased her prudence and political skills in dealing with the multiple crises her country and Europe have had to deal with over the years.
For her forthcoming four-year term, Merkel will hope she has less reason to display her crisis-management abilities and instead she and her team will be able to show that Germany can work with France to be the anchors and leaders of European integration and expand the country's role on the global stage.
Apart from their domestic agenda, Merkel and her team will have to engage in the ongoing debate on the future of Europe. Among the many questions that need answering, an important one is about the role of the European Union institutions, which need to become a driving force of European integration, instead of being manipulated by pressure groups in devising policies.
Merkel will also have to deal with Germany's relations with the United States, Turkey and Russia and her approach can help the European Union to re-engage with these powers. The world is filled with many geopolitical challenges, and global security is threatened by terrorism and escalating tensions in various parts of the world. Europe must play its due role in contributing to peace and stability.
Another pressing task Merkel faces is how she will further realize the historic opportunity to help connect Europe with Asia by deepening cooperation with China under the framework of the Belt and Road Initiative. China in Asia and Germany in Europe, are two of the world's leading economic engines.
If Germany looks eastward and China westward, Merkel will be able to turn her next four years into a legacy of peace and common prosperity for the two continents.
The author is deputy chief of China Daily European Bureau. fujing@chinadaily.com.cn